Resonate Suwannee – REVIEW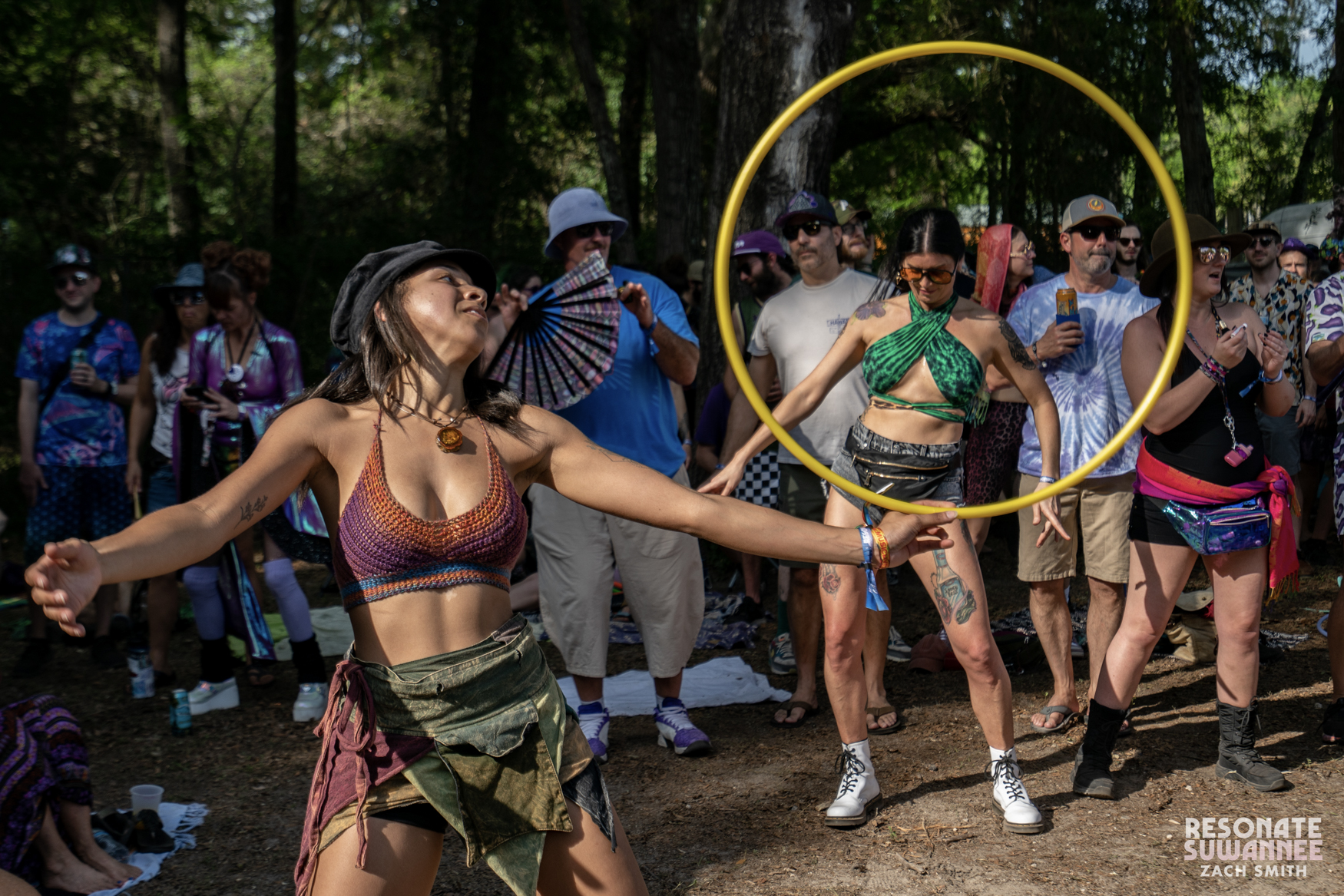 Bringing out the jams of tranquility, Resonate Suwanee captivates fans over three incredible days.
March 31st – April 1st, 2023
Resonate 2023 at Spirit of Suwannee Music Park, a lovely festival filled with a spectacular crowd and astounding performances over 3 nights this past March 30th-April 1st, was a great way to kick off the festival season. Hearing such absurdities as 1st-hand accounts of previous year's "Butt-Plug Tug O' War," silly claims of more believable falsehoods for the sake of harmless pranks and a weekend abound with joyous dancing at world-class performances.
THURSDAY
Unfortunately, the day didn't start out as I had planned. Dealing with unanticipated car trouble and a stop to a mechanic, I was unable to catch Michal Menert's much anticipated set, as well as Sidetrackd and Tamayo, but I was happy to arrive in time to catch the 'most metal' of the weekend's act's, Lespecial's 5pm set. The heavy 3-piece brought neo-Tool vibes, spacey escapades of jazzy drum laden terrains. It slid into deep drillish tracks worthy of rap or long dark rides. It later gave allusions to Claypoolish lyrics and Primusial bass lines that gratified those old of us to know. The set closed with a glorious cover of Peter Gabriel's vocals in a wookified 'I can feel it' harmony that definitely wet the appetite for things to come.
While looking forward to Late Night Radio, my late arrival insisted I return to set up camp before nightfall and eat some grub. Sadly, LNR was much missed. I committed to not miss much more in a weekend filled with 2-stage events, so tightly coordinated that one's end seamlessly fused with the start of the other stage's planned set.
STS9 played their first of four planned sets over two nights of this packed 3-night weekend. Orchestral rock followed by dancing keys and funky grooves. Jubilance in full attendance, as the crowd filled out this first night. Loud rhythmic bass soothed the body with its heartfelt resonance beyond ears alone. Magnificence scintillated from laser illumined bubbles above as much as the glorified crowd below.
Frameworks began at 8:30 sharp. Compared to other festivals, Resonate had cleaner set times and easier an transition between two stages than any other festival I have been too. To be clear, the production crew made stellar use of A PORCH, hard to recognize from the high-fi audio-visual facade. Excellent, downtempo opportunity to recover as we danced more subtly than the STS9 rager of sets just prior and immediately after Frameworks set. A much-anticipated artist, Frameworks did not disappoint, but made a steadfast fan of me. DJ and live drum duo wove beatific looms of sensuous and nuanced space. Sounding darker patterns were seen on dancers' stirrings. The crowd was coming alive, strive-writhing skyward with the elegance of the night and music. Jungle vibes caused wild roars from primal personas unleashed within the crowd.
STS9#2- With a well marinated crowd ready to sear from the start, STS9 brought the fire! The crowd was now fully in high gear for the celebrations.
Ott's closing set that first night made me wonder how much music has to do with the psychedelic Renaissance upon us, with trippy grime and visuals hinting strongly of DMT and mushrooms, the crowd was transfixed or dancing. Ott, a most proper gent from across the pond, brought the good manners of the late Queen, before closing it out with The Queen of All Everything. Criticism that "an hour for psytrance isn't enough to even get started," as Ott "didn't have time to open up." We agreed, a longer and later set would be best for them to get weird, but Suwannee adhered to a strict midnight end to music for Thursday night, so an hour is all we got for Ott.
FRIDAY
We spent time enjoying the river until 4pm, missing Skiz, Guavatron and Future Joyin, plus the heat of the day to stay cool by the water. Thereafter, we caught Hive Mind's 4-piece jam rock to get us all moving. The set created gentle grooves coalescing to beautiful rhymes rhythms, which allowed dancers to move as spiritually, sensually or wildly as desired as the sun grew lower. Dave McSweeny brought amazing energy and incredible charisma to the crowd, delivering the joy so clearly felt by other band members. We could all be seen smiling in the photo Hive Mind took at the end of their invigorating set.
Late in the day at 4:30pm, we stayed back behind the shade line, but I couldn't help but be drawn in by the awesome fury of Megan Hamilton's set. A fast and worthy addition to the scene, you can rest assure you will see her rise in the scene, especially with her unrelenting dance floor beats. Shouting out to Clozee for signing her to her label, women are continuing the grand tradition of making musical waves for generations to come. As the heat poured over the late afternoon, it helped me see the wardrobes of scantily clad women around as pure liberation: I was jealous… and appreciative. Meghan Hamilton's music showed how hard and brutal she could be, pummeling grimy beats. Even if you're deaf, the bass made the body feel good as its waves swelled and pulsed throughout each bone and cell.
Drum Circle in place of Lotus' canceled set was truly heartfelt. The communal participation, drumming, dancing, flower-laying, hooting and hollering was an honorific remembrance of Chuck Morris and his son, Charley Morris. Their river trip together failed to deliver their beloved lives back to us.
Mark Farina's smooth dance set got hips swaying and heads bobbing, most groovily indeed. While the sun scorched us, it couldn't smother the fire the dancers exuded to his gassy set. A DJ welcomed on all occasions, this vibe could be devoured for days.
STS9's 3rd set launched off beautifully, into their best set (IMO) of the weekend yet. Jovially marching through mirthful movement after musical moment, their set provided buttery warm layers of croissant-like bass and the funkiest of fluff with also a nice drum duet prelude to their closer. The well-curated set satisfied even the most discriminating of super-fans.
Next, Emancipator's lovely lyric-laden loom wove beautifully, beginning with beat-boxyesque layers. Her fiancé going back to camp, a friend walked closer to his set waxing poetically about Emancipator "as my future husband… DJ-ing while we'd share a nude hot-tub outdoors." We were all so enamored by Emancipator, so I told her to stand in line. "It'd have to be a mythically big hot-tub," large enough to make Nero feel inadequate about his own. As the set progressed, down-tempo house vibes with Emancipator's distinctive sound-signature were writ upon the hearts of those attending. A solid experimentalist set, every new acoustic dish he served was to be as trusted as from a multi-starred Michelin chef.
Sts9's 4th set brought it on hard, bass & drums thundering low through the night with keys trilling high as lightning strikes. Drop and breakbeats fixed our ears on point while jazzy keys, bluesy bass and primal percussion smattered patterns like river systems running through a terrain map of the mind. Entrusted with the grand task of helping distribute LED blinking foam rods to the crowd, I launched the LED-missiles and watched them explode as they were waved above the dancing crowd. Ending as they started, hard and heavy, STS9's last and most wonderful set's jams had everybody dancing without a break.
Opio closed the night with glitchy trance as the night air filled with the unmistakable scent of mothballs (or DMT). "Omg-banger after banger,' an awestruck friend shouted at her man as Opio seamlessly launched into his third song. Yes, "I like your shows/I like your fanny-pack" too! The crowd showed no sign of fatigue, throwing down as strongly Opio threw at us. From the looks of how the crowd looked near 1am, it seems Friday night could easily go on for many hours more.
SATURDAY
Vlad The Inhaler brought a diverse array of interesting grooves together, a dance-worthy pastiche for those fortunate to find cool breeze under the shaded trees. As the afternoon sun flirted with clouds above, the bass dropped. Old School Drum n' Bass cut deep. It was a great way to start the last day, filled with music and wide, broad smiles.
Just after, I put an unoccupied hammock to use, enjoying the shade as Sneezy played their joyful, lyric-laden torrents along their jamtastic grooves. A pure organic instrumental set to complement Vlad The Inhaler's enjoyable electronica just prior. Launching a harmonica-gilded tune to turn the fiercest Tom Petty fan into one of theirs, Sneezy showed their musical diversity in spades. For their 1st set at Spirit of Suwannee, Sneezy played as to be assured a welcomed return back at Hulaween 2023. Do make sure to catch them there. Their drum heavy jungle set was a foundation for brass and more exotic sonic arisings, ending in calypso regions of previous recognitions. "Gina" made a Spotify fan of me, and their cover of Curtis Mayfield's "Move On Up" hit all the right places, although it did provoke some controversy.
Lettuce, Resonate's closer, had long ago so captivated the Purple Hatter Ball community with their own funktacular cover of "Move On Up."  Did Sneezy get the green light to inherit the long-held 'right' Lettuce held to this song, at this stage?  Were the charismatic crew of Sneezy completely unaware of Lettuce's history with the song at Spirit of Suwanee? Or- heaven forbid- was this an intentional affront, a coup to the power-position Lettuce held in our hearts? I do not know, and long live King Lettuce, but Sneezy showed the funk throne is not safely held under any kingdom forever. All in all, Lettuce need not feel threatened by Sneezy, but can find happiness to have such funk-tastic companions in the sacred space of Spirit of Suwanee's Spanish moss & cypress tree refuge for lovers of music that here we all are.
Dirtwire– to say they 'set a vibe' is a gross understatement. No one plays music similar. You must see a show to judge yourself. Purely from a meteorological perspective, a spectacular show to behold. How may Dirtwire's primal sounds have so summoned the clouds to swirl and torment around their music? Seldom does music carry such undeniable and potent transgenerational power, so easily heard in Dirtwire's amazing sets.
Big Something brought that which the well cooking afternoon demanded. While the crowd resembled an ocean come alive by what the band brewed, nasty swells battered what hatches we held on to. Thundering onslaught caused surging, the crowd aflame in the last hours of daylight. Big Something continued crashing, reverberating through the crowd of Resonate this last wonderful night. They had steered us into mellower waters, sensual bays harbored by moonlit minds, for a beautifully peaceful end to their wide-faring and adventurous set.
Desert Dwellers iconic sounds drew us in and freed us to move with the wind. Bubbles nipped mysteriously, like toothless piranhas upon the flesh. As the sun grew low, trancey reptilian vibes emerged like shadows from the sounds perceived. A bath of bassy sounds surrounded us, like a warm serpent's coil. Cocoon-like emergences took flight. Baleen flows felt deep, unmoored, and peaceful fathoms below. Here we danced like a field of seagrass, gently swaying as part of a cohesive, well-integrated and healthy musical ecosystem arising at Resonate 2023.
Next, Lawrence was a fresh reintroduction to classic musicianship. Gracey Lawrence brought such voluminous vocal richness from such a little lady as her brother, Clyde, seemed like they were born into the same family as their other bandmates. They played so harmoniously together. However, I regrettably left their set early for some grub, reunions back at camp, and a quick and dirty sponge-bat while, Lawrence's music could be heard delighting the crowd as I dance-walked my way back to camp.
Polish Ambassador delivered a fast and furious dance party, over quicker than a bachelor's regrets. Seriously, in what felt like three songs, a full hour of unrepentantly salacious dancing ripped through our bodies and minds. The world's most treasured ambassador is the Polish Ambassador.
Cimafunk brought spice, savory hunks of chunky funk on the side. Bringing past centennial Island scat back for new, dusting off decades of influence with honorific exuberance. I've never seen a dance-party end up like this, with 60 or so of the crowd's sexiest people streaming up on stage like an endless string of circus clowns coming out of a car, but sexy people on a stage instead. There, the crowd on stage danced with Cimafunk to end their riotous set. It was "the best set of the weekend," several astounded festival goers jaw-droppingly asserted.
The Floozies disjointed set hodged-podged a wide array of musical assortments, including the "Macarena" and Toto's "Africa," into a fun and silly dance-party. Compared to more engaging performances, more conversations could be heard throughout the crowd, though all seemed to much enjoy the Floozies' set.
Momma Margie's Butterfly Release grows more touching each year beyond our Purple Hatter community's loss of our dear Rachel Hoffman Morningstar. How her Tribe has grown richer for her influence upon us, this shared weekend mourning Lotus' Chuck & his son, Charley. At the end of the brief, touching ceremony, Momma Margie asked how hungry we were for some Lettuce!
Fittingly, Lettuce ended the exemplary weekend of performances at Resonate 2023. It cannot be said enough, Lettuce Brings Us to Church! Devil be damned to know, it was a heaven-sent Saturday night. Sir Nigel Hall's amazing voice soared over his finger work upon the keys… such a joyful cacophony! Their entire jubilation came overfull when Lettuce invited Cimafunk on stage for their 2nd to last song. Titans of funk combined for a tsunami of engagement coursing through the audience, Lettuce's final jam hit all the right chords. We were all reverberating harmoniously back to camp, into hijinks of the night, hearts full of what we had seen, heard and shared together over the last three nights of music.
Resonate's night left plenty to enjoy, though the last of planned performances had come to an end. Pop up bands, Frick n Frack blackjack gambling, jokes, laughter and love abound.
A wonderful festival, Resonate '23 had vanishingly few emergencies, no aggro moments, no one fell awry the Goodwill of each other. It was all a Very Good Thing indeed. Family-friendly (despite some skin and sin), Resonate proves a beautiful way to affirm life with those you love. So many of the performers, at the end of their set, asked to take a picture with the glowing crowd. I understand why, as the memories will always hang proudly in all our hearts. If you missed Resonate this year, don't make the same mistake with Spirit of Suwanee's upcoming Hulaween. Tickets just went on sale and I'd love to see you there celebrating alongside the rest of us, vibrating at the highest frequency music and good times at Suwannee Music Park bring us to.
Resonate Suwanee. photo by Jay Strausser

Resonate Suwanee. photo by Jay Strausser

Resonate Suwanee. photo by Jay Strausser

Resonate Suwanee. photo by Jay Strausser

Resonate Suwanee. photo by Jay Strausser

Resonate Suwanee. photo by Jay Strausser

Resonate Suwanee. photo by Jay Strausser

Resonate Suwanee. photo by Jay Strausser

Resonate Suwanee. photo by Jay Strausser

Resonate Suwanee. photo by Jay Strausser

Resonate Suwanee. photo by Jay Strausser

Resonate Suwanee. photo by Jay Strausser

3 Doors Down and Candlebox at Mizner Park Amphitheater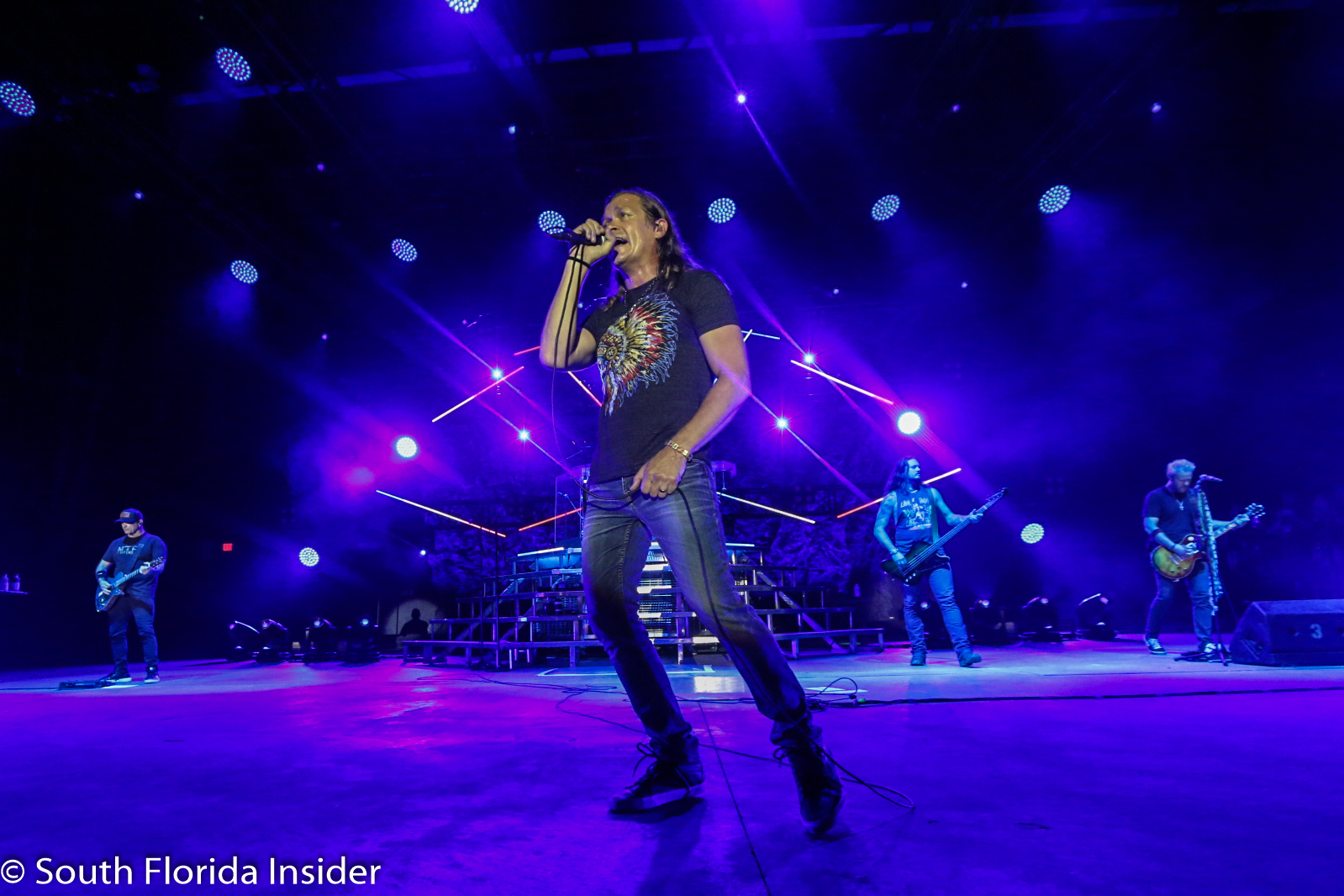 Rockin' Down Memory Lane: 3 Doors Down and Candlebox Set Mizner Park on Fire!


(more…)