DURAN DURAN – INTERVIEW with Bassist John Taylor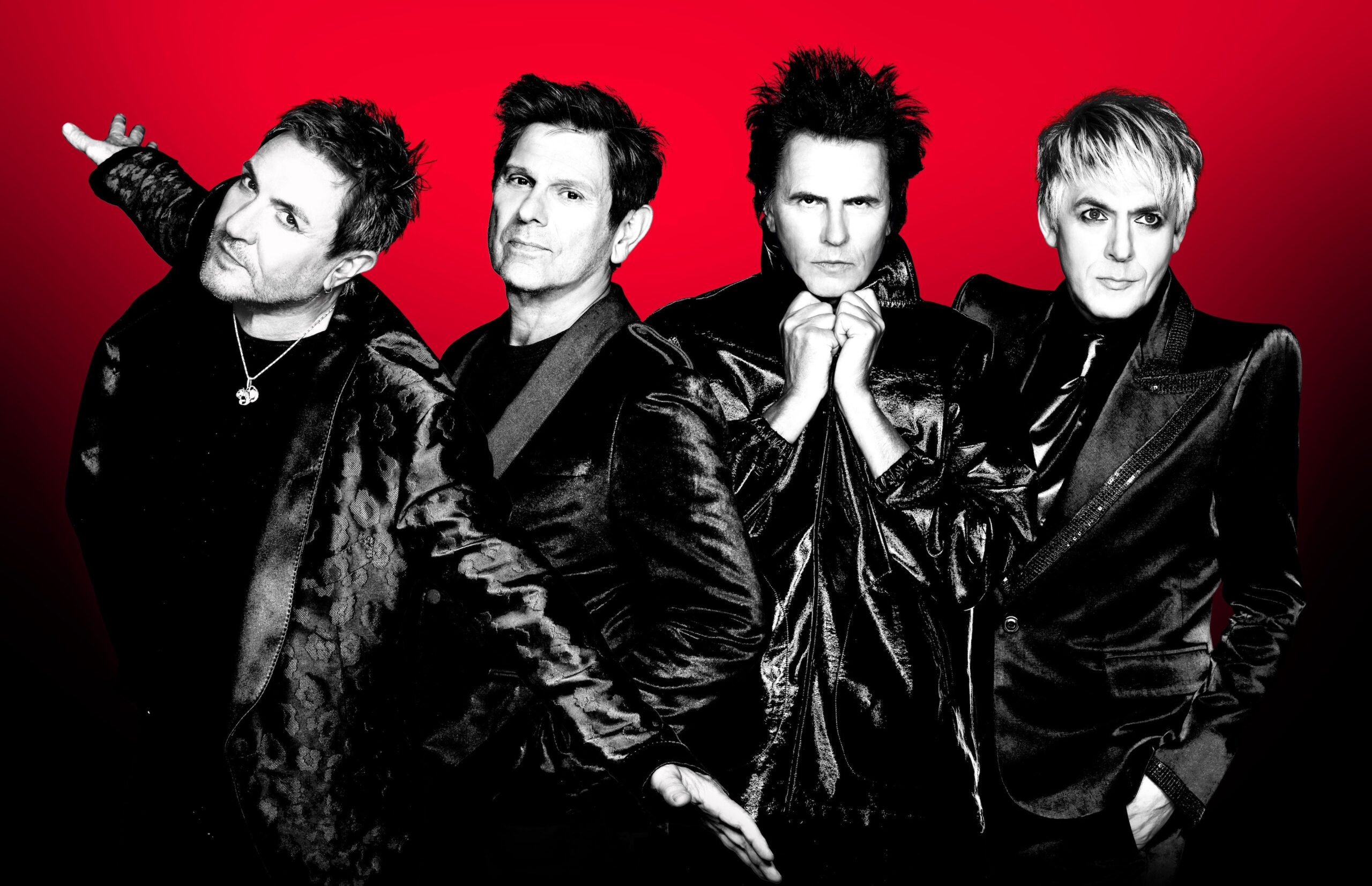 Duran Duran's John Taylor Reflects on Achievements, Band Dynamics and Exciting Ventures Ahead.
Performs at Sunrise's FLA Live Arena on June 18th.
May 23rd, 2023
So, a lot of iconic moments for Duran Duran, but I got to imagine getting inducted into the Rock and Roll Hall of Fame had to be kind of like on your personal Mount Rushmore so what's it like knowing what you have achieved so far? I mean, really, to fans all around the world?
JT – Yeah, it was. I think it was a big one, because Duran Duran even though we've had a lot of mainstream success over the years, we've always been sort of outsiders. I wouldn't say we were industry darlings since we've sort of done it our way. So, there was something about that, to be chosen, to represent where we come from, being born out of the UK in the late 70s. It's a sort of find ourselves at this, I mean, I joke about this, like this fucking freak show with Eminem and Dolly Parton and the Eurythmics and Judas Priest, and we're like, yeah, that freaks like us. It's like, when you realize that you're a part of this incredible continuum, which is aka the music business…and then everybody's an outsider. Everybody's an outsider looking for a home and for that night, everybody kind of put their differences aside and accepted that they were just part of this fucking incredible story, which is music. It was great.
As you're reflecting on the moment, are you still humbled by it, I mean, you guys were performing in front of Buckingham Palace afterall and you've had several other iconic moments.
JT – Well, last year was an incredible year for the band. We had a handful of really stellar plays, like you mentioned, Buckingham Palace, and the Queen's Jubilee. We also played in our hometown for the Commonwealth Games, which is like the British Olympics. We definitely had some big, big shows last year and rounded off with the Hall of Fame.
I think it was maybe a couple of days after that, where I thought, what do I do next? You know, where do we go from here? We had to be really careful with our laurels, because we didn't want to get too comfortable so we kind of got ourselves up and dusted. And actually, Nick sort of drove this project, this new project, which is this Halloween themed album that we kind of based off of one show that we did last year. We suddenly found ourselves scrambling to pull off this album of songs, to put it out later in the year, which suddenly put us under a lot of pressure, but it turned out to be exactly what we needed. When you're under pressure that's when you do good stuff. It really is a thing to not get too comfortable, because if you want to stay relevant for any length of time, you have to stay on top of things.
Is there a secret sauce to the band's longevity or something since so many others have failed over the years while you've maintained going strong?
JT – I've always loved the dynamic that plays out between band members, I'm always going to find you know, the music of the Rolling Stones more interesting and their solo record records likewise, Talking Heads, etc., but the dynamic of the musicians that make up bands you've got a very a lot of competition going on. There's love, but there's hate and it makes for a combustible kind of engine. It can do a lot of things, but it can suddenly break. It sounds kind of pretentious, but to keep the band together, you've got to stay together a little bit like marriage in a way. Of course, there are options, there are so many options out there. And, you know, if novelty is the most important thing to you, and newness, then maybe you're the kind of person that gets married five or six times. But, if you're the kind of person that isn't really interested in getting deeply involved with another human being as much as possible, then you're going to work it out. You're going to work out all of your problems in that marriage as best as you can and I think that's what we do. I'm fascinated by my bandmates. I mean, between Simon, Nick and Roger, they're a very interesting bunch of guys. I love them and I respect them. I'm always happy to work with them.
Yeah, I bet it's become one of those things where they're not just bandmates, they really are family.
JT – Yeah, I think so. I'm an only child, Nick's an only child, so I don't know what it's like to have a sibling. But, we chose each other and we continue to choose each other every time we go back into the studio to write a song together. We could all write songs with anyone and there's always opportunities to do so with other artists, but we continually recommit to each other. I also know that from the perspective of my own talent, as a bass player, and what I can do is that there's nobody that makes me look better than those guys. You could put me on a stage with a bandmate like The Edge, David Byrne or the keyboard player from Arcade Fire and I wouldn't flow the way I do with Nick, Simon and Roger.  I've learned to become a bass player. I also think style has a lot to do with it. And while I didn't know it right away, I always like artists that have got a really strong style. To some degree, if you're not like a virtuoso, like if you're a classical musician or a jazz musician, you've got to hit this incredible high of technical skill in order to perform and you've got to maintain it. Guys like us or bands like Arcade Fire and Talking Heads, we're not virtuosos. Chances are, we don't really know all that much. But, we have to make what we know who. So, I think in rock and roll, I think that's the story of it in a way. It's the story of guys with instruments making the little sound really cool. You create a style that is like nobody else can do and that's kind of what I like, when I when I hear it.
Were you able to kind of foresee how much success you'd have with your recent album as you were putting it together? I mean, considering that it was produced several years beyond your debut, yet it's received critical acclaim so how'd this magical thing come together and with several people collaborating on it?
JT – I think we went on a journey. The first act of the band was let's say five years and I think that was like the hero's journey. It was like if you can survive this, you can survive anything. It was almost like getting through infernos and having to go to hell and back and if you can survive that, then you've got to go to the next level in the computer game. That next level was a kind of much more existential kind of level. The three of us got to take stock of ourselves, we got to move more carefully and with more consideration. I would say that I was just so fucking grateful that I didn't die. It was a period of my life where I had a real hard time planning further than a month ahead, then as as things grew, we'd start to plan tours for six months ahead, a year ahead. We sort of entered this phase where we just got to hold on to our spot and whatever the dynamic is. We still want to be the best version of ourselves, we want to have the best Duran Duran show that anyone's ever seen. We want to give that energy to all our shows. We continually write new material and record and we want it to be as good as anything that we've done. It can be a problem when you've had a few years, like we had in our 20s, where you wrote some standards, you wrote, like, a dozen fucking standards, and that everything you do subsequently is going to get compared too, and that can really make you crazy. But, you know, if you don't show up, you don't show up and keep writing you don't know what you're gonna do so you kind of got to keep doing it.
And pretty soon you'll be doing an arena tour with a stop in South Florida so tell me how things kind of came together with your tour mates and is performing in this setting really perfect for the band?
JT – It really is. We love arenas and arenas love Duran Duran. We don't have arenas in the UK, really, but when we came to America and we did our first arena tour, I feel that's where the band really hit its stride. So, we're very happy to be doing that today. With all the technology out there today, especially with the projections, you can really tell a very, very exciting and very visual story, which Duran Duran has always been doing since day one. We've always been a band that mixed visuals and music in a very dynamic way and it's an evolving thing. We played I think 10 arenas last year so we look back from that to see what worked or didn't work and what we can we build on.
But, we still know we got to perform the cornerstones, songs like "Hungry Like The Wolf," "Ordinary World," Rio," and "Come Down." We've got to bring those songs. People are paying money to hear those songs, but then you start adding layers on top of that and some unexpected albums, songs, album tracks, then maybe a couple of cover songs. You've got to, you've got to delight, amuse and surprise.
Yeah, and speaking of cover songs, you guys laid down David Bowie's "Five Years" so how'd that come about? I got to imagine there was a couple of tracks, different artists that you were playing with so how'd come to fruition?
JT – Oh, well, we're huge Bowie fans so that was one of the first songs that we recorded in the studio. We were working with the producer on our first album who had worked with David on his Berlin sessions, the kind of legendary one with Iggy Pop. It just seemed like a fun idea. I mean, it really sounds like a bunch of scrawny punk rockers having a go at this sort of super sophisticated piece of like American funk, which is what "Fame" is. It's actually the first time I met David Bowie was at a nightclub in London and we just recorded it. I said to him, you know, great to meet you and how we just recorded a cover of "Fame" and he was like, "Oh, you have. have you?" And I said, Yeah, because we were just working with your engineer. It's funny that you bring that up, because we've covered a lot of David Bowie songs over the years, probably about 10 different times.
Now, I know you performed in so many great places, but is there anywhere that's even left that you guys want to do, maybe venturing to the moon or something?
JT – Ah, that's a Nick Rhodes question. I haven't really thought like that.
Maybe the Great Wall of China?
JT – Yeah maybe, but everybody would be like, "Oh what's the food gonna be like? I don't know.
So just wrapping things up, recently you partnered with Dingwall Guitars, to release a signature bass guitar so kind of fill us in all about that collaboration?
JT – Well, we've been talking about celebrating 40 years since the release of the Rio album and one of the ideas that was talked about was a signature guitar. I've been using Dingwalls basses for about six-seven years. Now, they're built in Canada and I talked to Sheldon Dingwall, who runs the company and he loved the idea. So, we built this bass, which is kind of an homage to that particular album, actually. It looks like the album, but it sounds like the album and uses technology that is based on the kinds of electronics that were being used in the mixing console that we made the album with. Strangely enough, it sounds very hip. It's a kind of dynamic response to it. It doesn't sound old; it sounds very new and it's a very exciting guitar to play, which is a relief, because you never know when you do something like this whether it's actually something you'll want to play it on stage or whether it's just for the studio. I can report that it's great in both the studio and on the stage. So yeah, I'll be playing that in South Florida.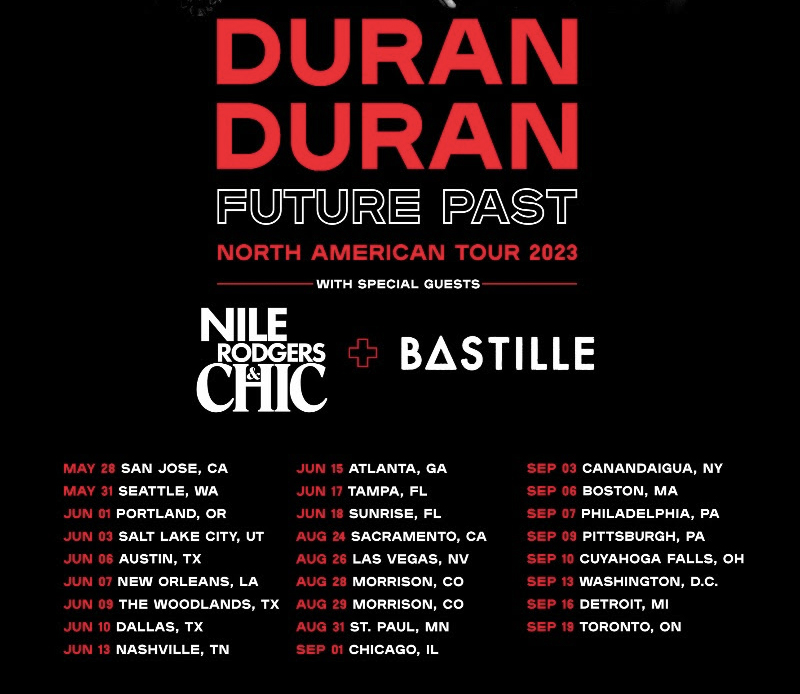 For more information and to purchase tickets, please visit https://duranduran.com/tour/.
OFFICIAL WEBSITE | INSTAGRAM | TWITTER | FACEBOOK | YOUTUBE
3 Doors Down and Candlebox at Mizner Park Amphitheater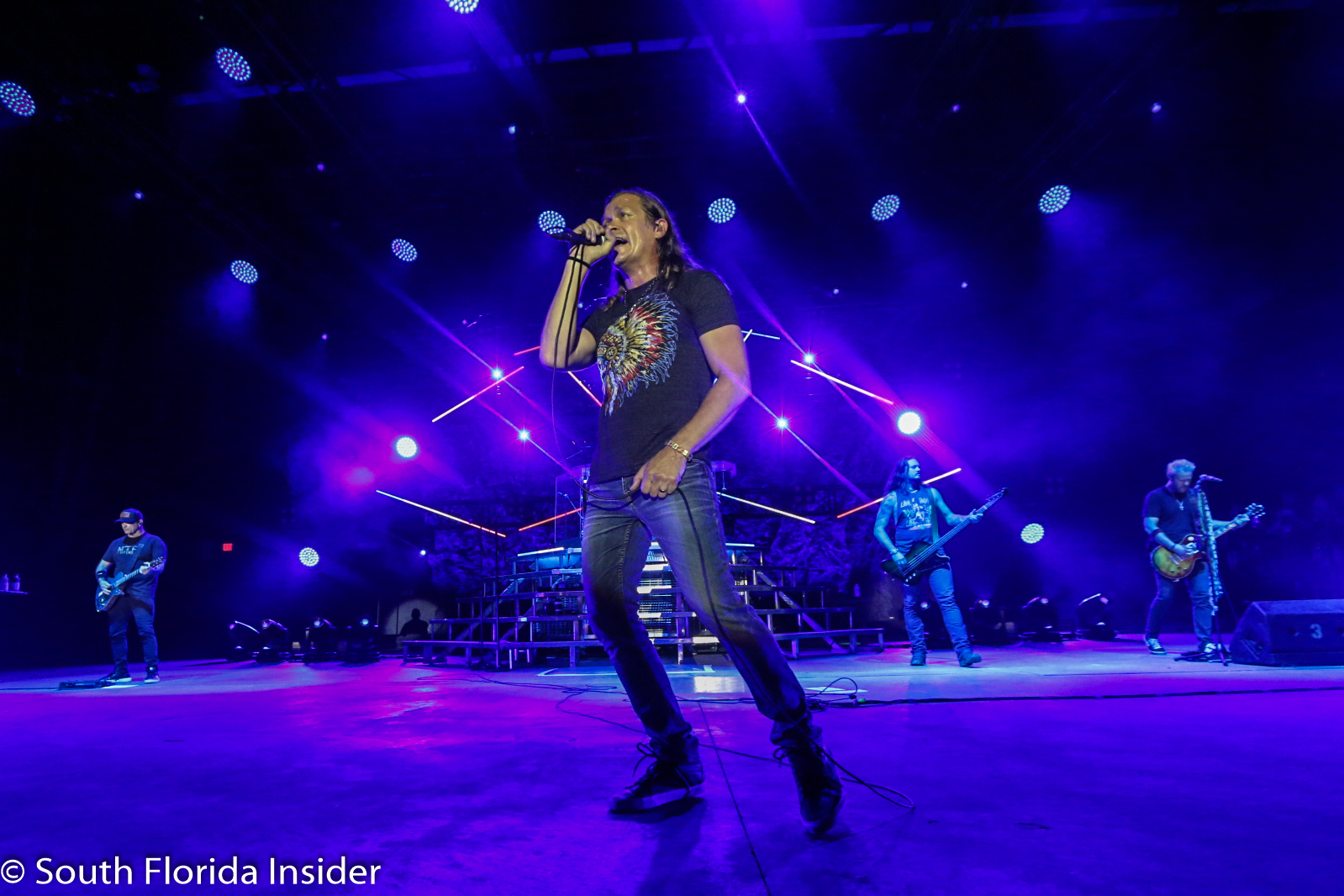 Rockin' Down Memory Lane: 3 Doors Down and Candlebox Set Mizner Park on Fire!


(more…)