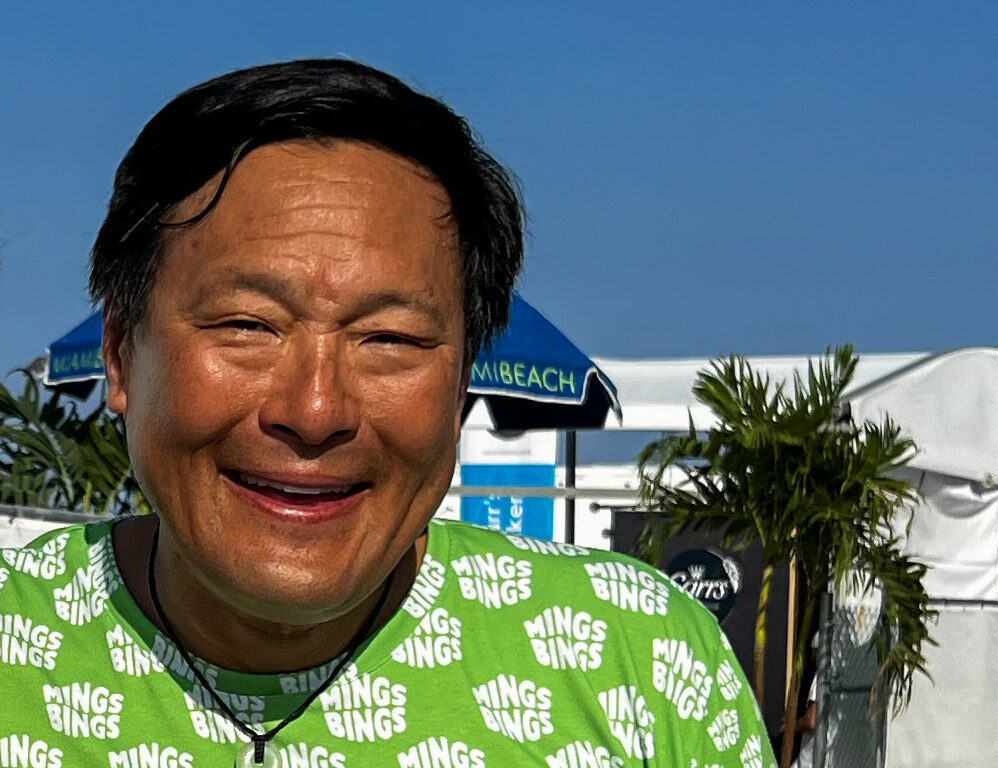 The popular celebrity chef Ming Tsai chimes in about maintaining health while maintaining quality, charitable work and more.
February 26th, 2023
First off, tell me what it's like being here at the South Beach Food and Wine Festival. We got such a variety of food demos, and just really everything is so eclectic all around here…and then you got East Meets West over here. 
Ming: I've been coming here for 22 years, right? I mean, I've probably missed 4 in 22 years and it keeps getting better and better. They have a system down now. For me to be doing this for so long, I'm always humbled and honored to keep coming back. Getting to do the demos is by far the most fun thing. I just like being able to entertain live and talk about food, and I'm glad I took the time to talk about mental illness, because it's a real issue right now. It's been awesome serving like 3,000 people a day, and these are people in our wheelhouse. These are people that are foodies. They're here for food and wine. We're amazed how many people [are like] "Oh my god, this is the only thing I can eat here that's plant based, that's gluten free." And we're busy as hell, which is just so humbling. And lastly, I've seen 20 chefs I don't see regularly. I never get to see these guys. I don't live in New York, I live in Ohio. This is now the largest festival that all of us still come to, so that's cool.
Do you pick up anything by being around so many guys? I feel like you're the one that kind of brings that East-West feel, maybe they're piggybacking off of you more, but do you get some of that vibe the other way around? 
Ming: Oh yeah, there's some young cooks now that can freakin' cook. I look at as many demos as I can, and when I go to the parties, I try to eat everyone's food. Sometimes it's hard because the lines are long, and we do Chinese cuts being chefs. But yeah, there's some amazing food. I got to judge Burger Bash and I just ate 12-14 burgers. Literally every one was delicious. There was only one that was a little overcooked, that's pretty amazing. 14 burgers, one is not spot on.
So at this fest, I know it's hard to look beyond your own, but is there something that you're like "Oh my god this is giving me a new idea to the next exploration of food"?
Ming: That's a pretty deep question. In this tent, there's probably four of us [that are] plant based, and there's probably three non alcoholic people, which is kind of funny at a Food and Wine Fest, but they're busy, and we're busy. So, that tells me that this is not just a trend or fad. I think you and me all want to live longer. It's a basic premise of life to live longer and not to do so unhealthy, but rather to live long and healthy. I've been preaching this since day one that you are what you eat…PERIOD. Chefs go in cycles, and I'm 58, I'm certainly one of the oldest chefs here, and you see chefs go in cycles. It's good to see people's stories, and it's so important to pass on to younger cooks. You can't just drink and smoke pot, you're gonna burn out.
It definitely goes against that misconception to never trust a skinny cook. That way of thinking is way off. 
Ming: I've never been called skinny
But you're not a big guy.
Ming: I could be. Believe you me if I didn't walk two miles a day. The hardest is eating late. One of my rules is I don't eat anything substantial after 10p.m. I wouldn't even eat a turkey sandwich, that'd be light. 
How do you kind of be conscious in the way of balancing taste and balancing safety such as food allergies as well?
Ming: As a chef, it's absolutely all about taste, but it's so important to really know the ingredients you have in front of you. So my son is allergic to peanuts and dairy so I just avoid putting those ingredients in front of me. But, it's never looked as a limitation, because there are so many other ingredients I could use; he's definitely lucky that his father is a chef. (laughing). It's funny, because that became the impetus and catalyst for me to pass the first law in the country regarding food allergy safety in restaurants. It was deemed un-American that you could refuse someone service if they had food allergies. I've seen it, and I've been a victim of that. I'm like "that's bullshit." It used to be a wheelchair couldn't get into a restaurant, it used to be the color of your skin. You couldn't enter the restaurant, none of those. You can't discriminate. You shouldn't own a restaurant if you don't know what's in your food. Right now there's a blurb on almost every menu in the country. It says if you have life-threatening food allergies, notify your server before ordering. 
With all the great things you're doing in the New England area, is there any chance we can get you to start a restaurant down here?
Ming: Restaurants are really hard right now. They're killing it here, but it doesn't go without pain. It's always your restaurant until that person quits and I just don't want to put myself in that position.
That's why you gotta get your kids going.
Ming: I systematically dissuaded my kids from being chefs. They both want to learn how to cook. They both love the fact that I'm a chef, because they get to eat really well. But, I basically told them the truth that it's really hard to make it in the chef world. I was so lucky, right? I mean, I do think I have some game and I can cook, which is why I believe I've had kind of a meteoric rise. The restaurant is always busy in Wellesley and nobody in Boston ever drives to Wellesley for any other reason. But, they saw the restaurant on TV so they come out. I have such a huge advantage. 
But, your children didn't want to still latch on?
Ming: No, because they have to have that same luck.
Well I really appreciate your time, we're all excited that you're here at the South Beach Food and Wine Festival and getting to see what you're up to and tasting arguably the best food (MingsBings) out of the entire Grand Tasting Village.
Ming: We're so excited. We're in Publix, Sprouts and we're at Target so anyone in South Florida can get them. Our motto is "Eat good, feel good." Eat good, because I'm an Iron Chef and it has to be delicious. If it's not delicious, then it doesn't matter if it's good for you or good for the planet, no one gives a shit. It's gotta be delicious. Feel good, because plant-based food does make your brain feel better. It is better for the environment. Do good, because some of the proceeds benefit both Dana Farber, the hospital that saved my wife's life and my CEO's life, and another great charity Family Reach Financial for families dealing with cancer. The proudest thing I've done is work with Family Reach. In 11 years, we've raised over $10 million through cooking. Food is an incredibly powerful platform to bring people together and raise money for a great cause .
For more information on Ming Tsai visit HERE
Rediscover Joy in Maltz's A Christmas Carol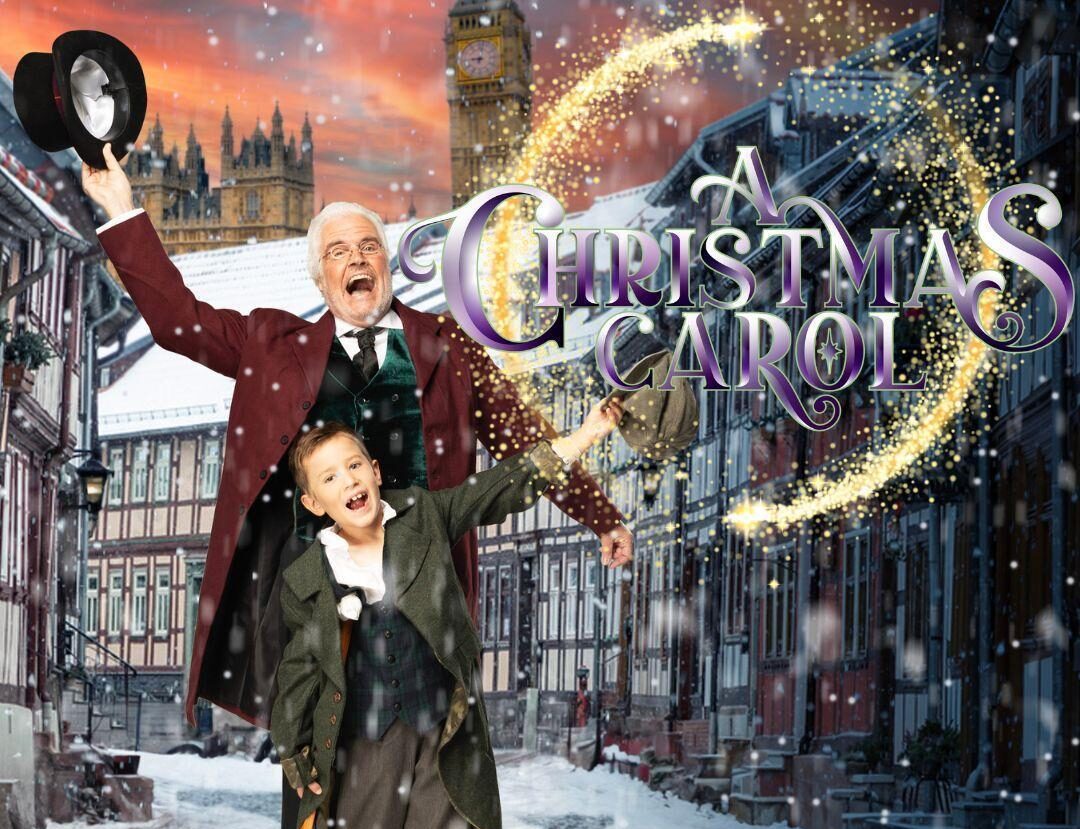 Join Actor and Playwright Paul Carlin at The Maltz Jupiter Theatre in Unleashing Scrooge's Heart through a Riveting Dance of Redemption!

(more…)