Sushi By Bou at Salt7 – Omakase Dining Experience review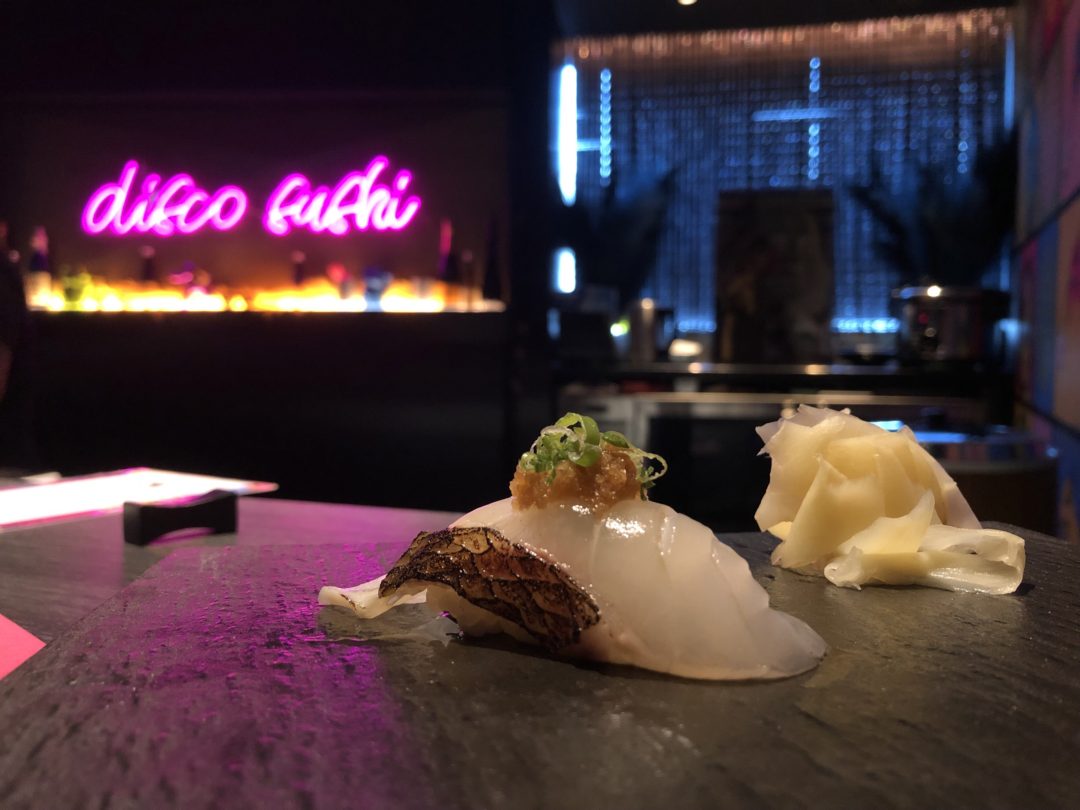 The Omakase dining experience at Sushi by Bou inside Salt7 in Fort Lauderdale is "disco sushi" heaven.  With the words "disco sushi" literally embellished on the walls and floors, there is no better way to say it.
March 31st, 2022
by Cary Levinson
Housed in an intimate space on a higher floor of the posh icon Las Olas, away from the main restaurant, the Omakase experience was a 17 plus course culinary delight. With seating for only a handful at a time, the sushi chefs and staff offered an intimate and immersive Omakase experience.
Omakase is a form of Japanese dining where guests enjoy the freshest, chef selected ingredients and compositions, across multiple courses. While the sushi chefs were happy to hear about allergies and preferences, a hallmark of the Omakase experience is allowing the chef's artistry to shine, with no constraints.
The elegant and artistic Omakase dining experience was impressive across the senses. Beyond the freshest fish and ingredients possible, vibrant music, neon decor, selfie-inducing scenes, and pop art provided an electric backdrop. At the micro lounge and bar, unique cocktails with elevated ingredients were available before the meal began.
Consistently, each course offered freshness, balance, and flavorful additions to accentuate the natural and often subtle flavor of the fresh seafood and Wagyu beef. The many courses were served at a consistent, but never rushed pace. The sushi chefs took time to compose each edible work of art, some painting by hand, others with brushes, some opening up with subtle knife cuts. With each course, the sushi chefs took time to explain the ingredients, including in many cases, sourcing information.
A thorough review of each course would amount to an epic.  Instead, here's a brief rundown of my menu, but keep in mind, your experience will be unique, featuring the freshest offerings.
For the first round, the pungent sauce on the Alaskan crab and sunomono (cucumber) salad was sharp and refreshing, a great intro to the fun ahead. Next, the smooth, mild taste of Akami (bluefin tuna) was paired with some strong fresh ginger. The familiar Ebi (shrimp) with sea salt tasted fresher than any shrimp I'd ever enjoyed. Aji (striped jack) coupled with chives and aromatic notes shifted the flavors in a new direction. The journey was salty and rich with house marinated ikura (salmon roe) up next. Japanese bream with ponzu sauce was smoky, earthy, and had some crispy skin. Hamachi (Japanese yellow tail) was prepared with literal touches of lemon, providing an opportunity to appreciate the perfect rice, and simple freshness of the fish. Zuke (marinated blue fin tuna) with ginger was seared to perfection right before hitting my plate. Kinmedai (Golden eye snapper) in a spicy citrus yuzu sauce was the flavor crescendo. Next the rich, buttery, melt in your mouth taste of fresh Japanese sea scallop was served with a healthy dose of wasabi.  Kanpachi (Suzuki) with ginger and a touch of sweetness followed. Chu toro (fatty tuna) with pickled ginger provided another rich and buttery bite with incredible texture and depth of flavor. Next familiar sake (salmon) was elevated with truffle oil and quickly seared to perfection.  Uni (sea urchin) with black truffle pearls, balanced on a bed of rice and seaweed, hit me like a wave from the Sea of Japan.  Another round of toro (fatty tuna) was rich and offered a touch of sweetness. Finally the "Wagyuni," fresh seared Wagyu beef topped with uni, richness upon richness, offered a decadent finale. As an encore, a toro tartar hand-roll was crisp, spicy, and brought my palate back to reality from the post-Wagyu bliss. I'd you're still reading, you must really love sushi.
After the final course, the disco continued in an ornate and intimate dessert room. There, I enjoyed an absolute dream of a green matcha cake, boasting about 15 layers of fresh crepes and cream.
Special thanks to my engaging and informative sushi chefs, or more appropriately, sushi artist masters, Chef Jordan and Chef Jeff.  I'm well experienced with sushi, and this Omakase really exceeded my expectations. If you love sushi, but haven't tried Omakase, or if you like sushi but haven't made it out of the California roll club, Sushi by Bou is a great opportunity to expand your horizons.
For more information visit: https://sushibybou.com
Sushi By Bou at Salt7 - Omakase Dining Experience. photo by Cary Levinson

Sushi By Bou at Salt7 - Omakase Dining Experience. photo by Cary Levinson

Sushi By Bou at Salt7 - Omakase Dining Experience. photo by Cary Levinson

Sushi By Bou at Salt7 - Omakase Dining Experience. photo by Cary Levinson

Sushi By Bou at Salt7 - Omakase Dining Experience. photo by Cary Levinson

Sushi By Bou at Salt7 - Omakase Dining Experience. photo by Cary Levinson

Sushi By Bou at Salt7 - Omakase Dining Experience. photo by Cary Levinson

Sushi By Bou at Salt7 - Omakase Dining Experience. photo by Cary Levinson

Sushi By Bou at Salt7 - Omakase Dining Experience. photo by Cary Levinson

Sushi By Bou at Salt7 - Omakase Dining Experience. photo by Cary Levinson

Sushi By Bou at Salt7 - Omakase Dining Experience. photo by Cary Levinson

Sushi By Bou at Salt7 - Omakase Dining Experience. photo by Cary Levinson

Sushi By Bou at Salt7 - Omakase Dining Experience. photo by Cary Levinson

Sushi By Bou at Salt7 - Omakase Dining Experience. photo by Cary Levinson

Sushi By Bou at Salt7 - Omakase Dining Experience. photo by Cary Levinson

Sushi By Bou at Salt7 - Omakase Dining Experience. photo by Cary Levinson

Sushi By Bou at Salt7 - Omakase Dining Experience. photo by Cary Levinson

Sushi By Bou at Salt7 - Omakase Dining Experience. photo by Cary Levinson

Sushi By Bou at Salt7 - Omakase Dining Experience. photo by Cary Levinson

Sushi By Bou at Salt7 - Omakase Dining Experience. photo by Cary Levinson

Nutrition for Success: Dr. Amy Lee's Recipe for Wellness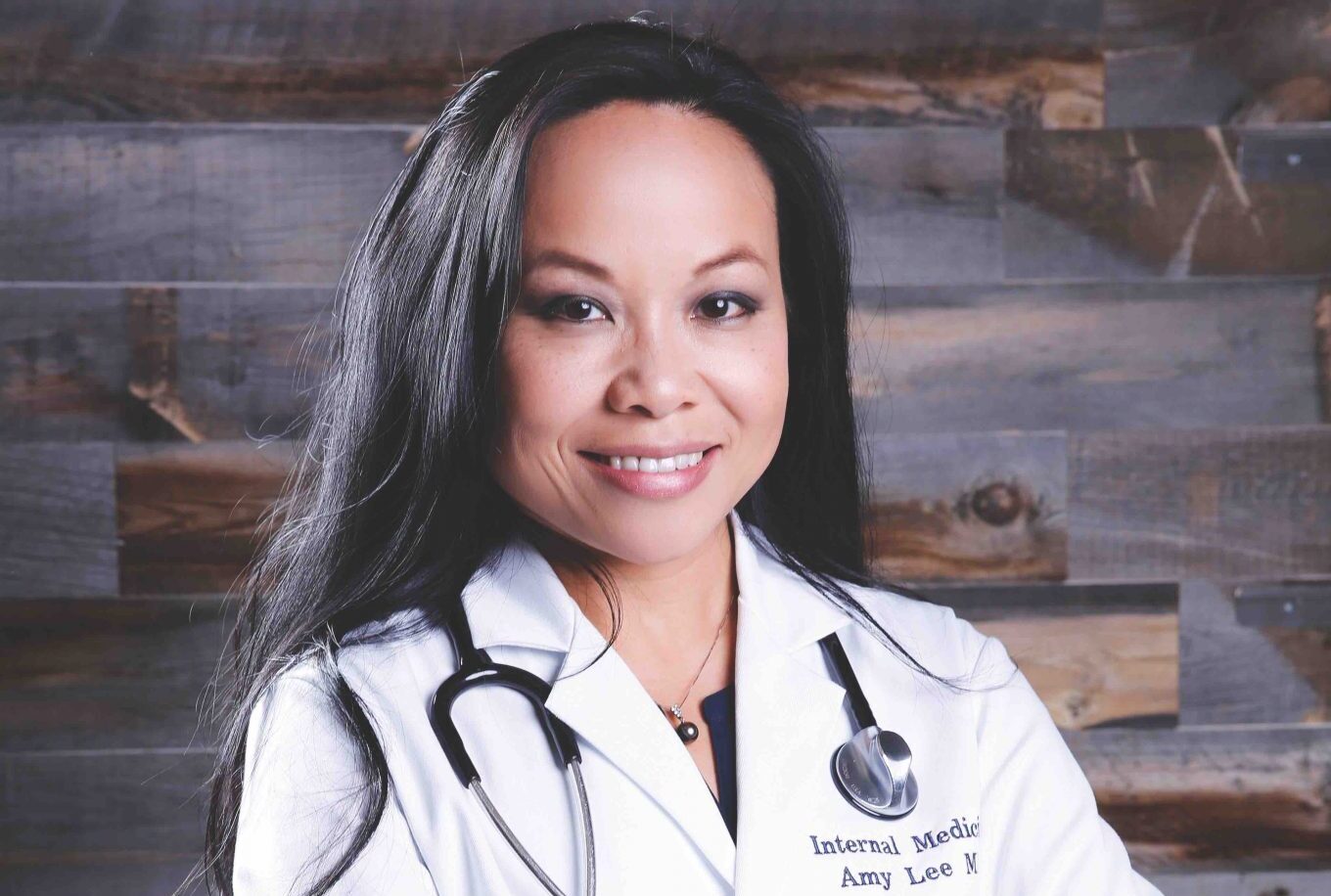 From Breakfast to Balance, Uncover the Secrets of Nutritional Well-Being by Dr. Amy Lee.


(more…)