Whispers of Murder: Agatha Christie's Classic at Maltz Jupiter Theatre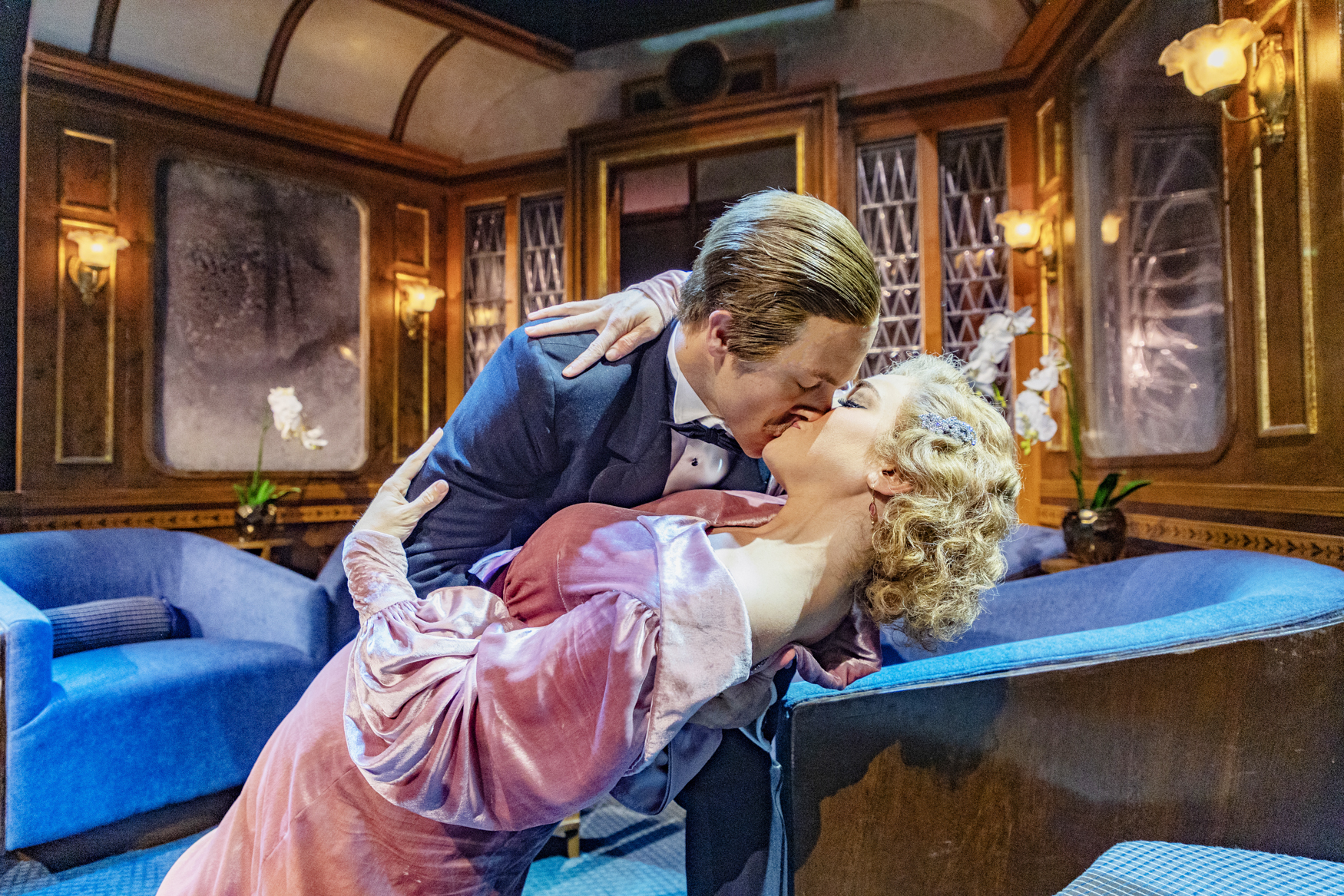 Clues, Comedy, Class: The Ultimate Whodunnit Experience Awaits at Maltz Jupiter Theatre – Witness Agatha Christie's Masterpiece Murder on the Orient Express Come Alive on Stage!

November 2nd, 2023
Agatha Christie's timeless masterpiece Murder on the Orient Express adapted for stage by Ken Ludwig comes to life in an electrifying production that was as gripping as it was visually stunning. This classic will take you back to 1934 on a train ride with glamour, wit and a healthy dose of humor is playing at the Maltz Jupiter Theatre through Nov. 12th. The Maltz Jupiter Theater chose this production, directed by Peter Amster, to launch their 2023 season.
The curtain, which is a movie screen, lifts and reveals the opulent Orient Express. Fog and the sound of the whistle takes you to a train station in the 1930s in Istanbul. The intricate moving set glides to show the different parts of the train as the action of the story develops. As the play progresses, the screen that surrounds the train projects the night sky, the trees, and later, a flashback of the characters. This creative production tightly combines lighting, sound, and projections to bring us the atmosphere of a luxurious world of a snowbound train, where a child murderer is found dead with eight stab wounds. One of the passengers must be guilty—but alas, all have alibis.
If you are familiar with this story, you will not be disappointed as each character is portrayed with depth and authenticity. The Orient Express has the enigmatic and quick-witted Hercule Poirot, played by Andrew Sellon, is the heart of the show, and his charismatic presence holds the audience in rapt attention from start to finish. The sense of intrigue and suspense was masterfully maintained throughout, keeping the audience on the edge of their seats and laughter with some comic relief.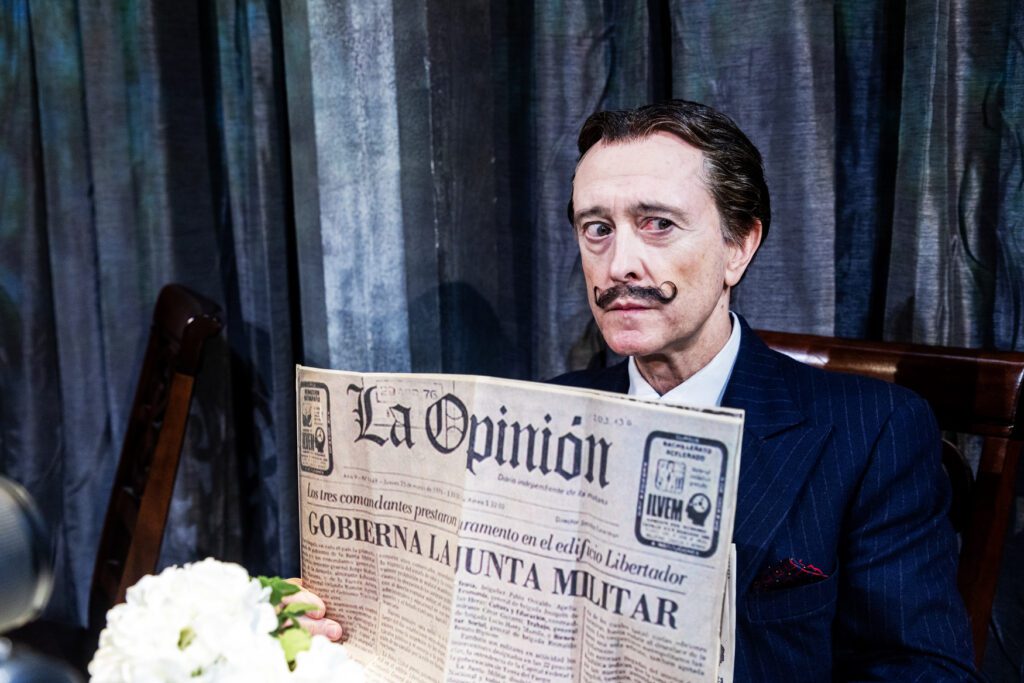 Every performer grasped the characters' dramatic expectations. Laura Turnbull's chatty and bossy Helen Hubbard, Lucy Lavely's wildly religious Gretta Ohisson, Jeanne Bennett's imposing Princess Dragomiroff, Mallory Newbrough's attractive Mary Debenham, and Suzanne Ankrum's composed Countess Andrenyi are a few of the performances that stand out. David Breitbarth as Monsieur Bouc did a fine job to keep the story going as Poirot's good friend.
Murder in the Orient Express at the Maltz Jupiter Theater is a theatrical experience you wouldn't want to miss. It combined outstanding performances with exceptional production values to create a thrilling evening of entertainment. This play is a must-see if you enjoy both excellent live theater and vintage murder mysteries. Congratulations to the whole team and cast for a job well done! You can get tickets at Maltz Jupiter Theatre.
Agatha Christie's Murder on the Orient Express. photo by Benjamin Rusnak

Agatha Christie's Murder on the Orient Express. photo by Benjamin Rusnak

Agatha Christie's Murder on the Orient Express. photo by Benjamin Rusnak

Agatha Christie's Murder on the Orient Express. photo by Jason Nuttle

Agatha Christie's Murder on the Orient Express. photo by Benjamin Rusnak

Agatha Christie's Murder on the Orient Express. photo by Jason Nuttle

Agatha Christie's Murder on the Orient Express. photo by Benjamin Rusnak

Agatha Christie's Murder on the Orient Express. photo by Jason Nuttle

Agatha Christie's Murder on the Orient Express. photo by Benjamin Rusnak

Agatha Christie's Murder on the Orient Express. photo by Jason Nuttle

Agatha Christie's Murder on the Orient Express. photo by Benjamin Rusnak

Agatha Christie's Murder on the Orient Express. photo by Jason Nuttle

Agatha Christie's Murder on the Orient Express. photo by Jason Nuttle

Agatha Christie's Murder on the Orient Express. photo by Jason Nuttle

Agatha Christie's Murder on the Orient Express. photo by Benjamin Rusnak

Agatha Christie's Murder on the Orient Express. photo by Jason Nuttle

Agatha Christie's Murder on the Orient Express. photo by Benjamin Rusnak

Agatha Christie's Murder on the Orient Express. photo by Jason Nuttle

Agatha Christie's Murder on the Orient Express. photo by Benjamin Rusnak

Agatha Christie's Murder on the Orient Express. photo by Jason Nuttle

Agatha Christie's Murder on the Orient Express. photo by Benjamin Rusnak

Agatha Christie's Murder on the Orient Express. photo by Jason Nuttle

Agatha Christie's Murder on the Orient Express. photo by Benjamin Rusnak

Agatha Christie's Murder on the Orient Express. photo by Jason Nuttle

Agatha Christie's Murder on the Orient Express. photo by Benjamin Rusnak

Stavros Halkias Brings a Night of No-Filter Comedy to South Florida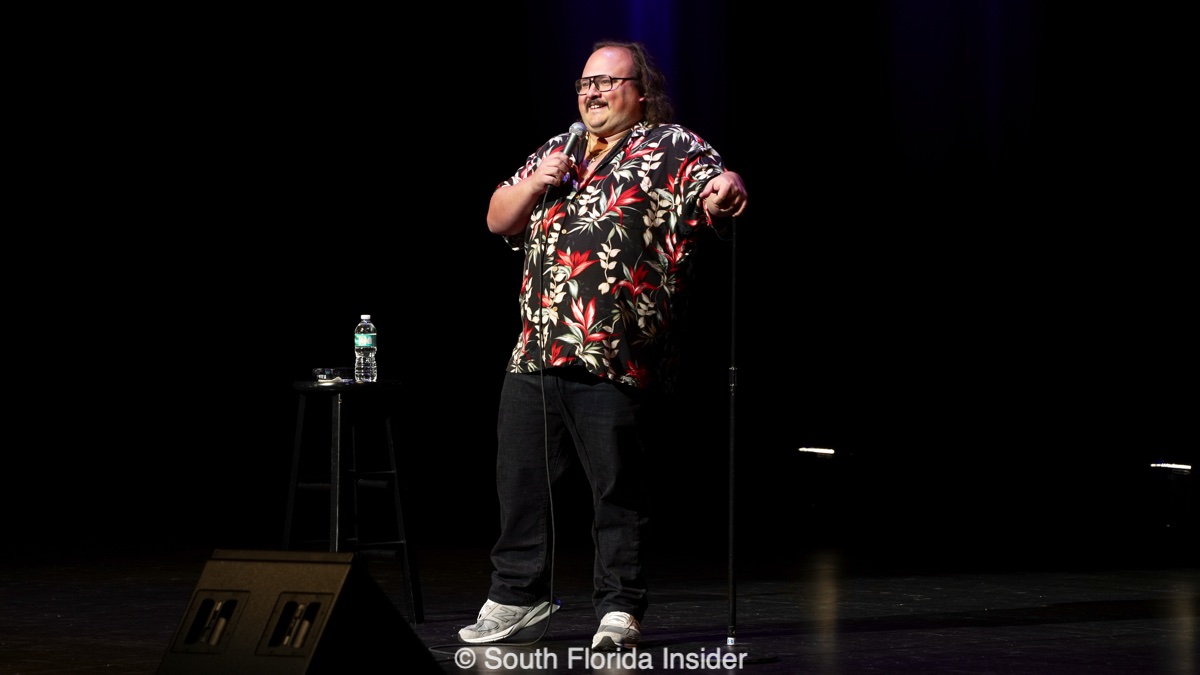 The Greek Gremlin of Comedy Brings His "Fat Rascal" Tour to the Beautiful Halls of the Au-Rene Theater – Photos and Review of the Stavros Halkias show at the Au-Rene Theater at the Broward Center For The Performing Arts in Ft. Lauderdale, FL