27th Annual Las Olas Wine & Food Festival – REVIEW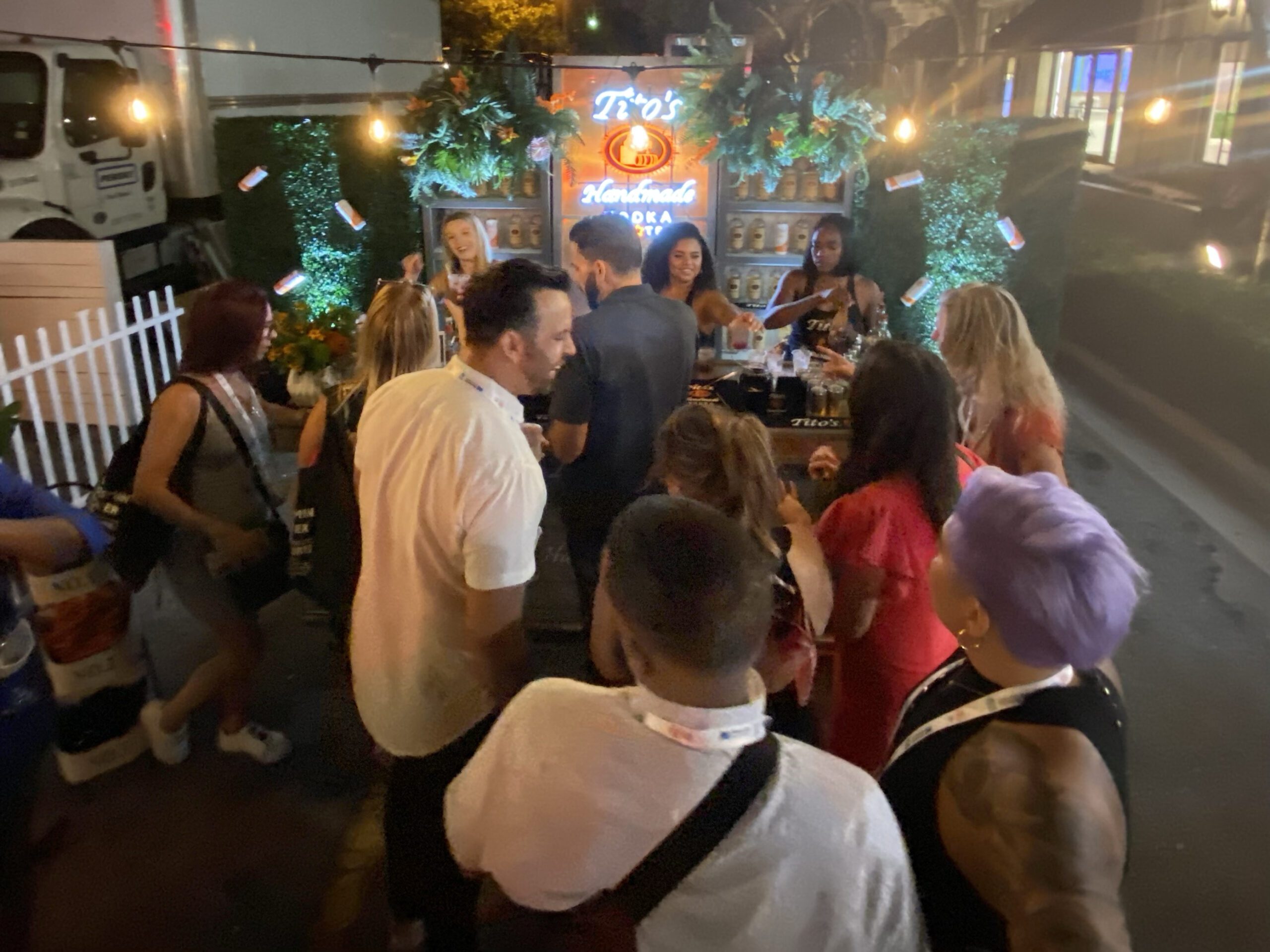 South Florida's refreshed and refined restaurant and beverage scene was on full display at the 27th Annual Las Olas Wine & Food Festival (LOWFF).
April 21st, 2023
Taking place on iconic Las Olas Boulevard in downtown Fort Lauderdale, the always popular event featured a decadent "tasting pavilion," shutting down both sides of the street, from SE 6th Avenue to SE 11th Avenue. There, attendees tasted, sipped, mingled and danced, all for a great cause with proceeds assisting in the funding of research and educational programming for South Florida American Lung Association. The mission for the Lung Association is to create a better future for those living with lung cancer and other chronic respiratory diseases including COPD and asthma.
Offering convenient ride-share access, multiple points of entry and spectacular weather, the festival was off to a seamless and action-packed start. Many veteran attendees scooped up VIP access passes, which included a pre-event reception and 30 minutes of early access to the tasting pavilion. Once the general admission crowd started to file in, lines formed at popular booths, but with VIP access and a little bit of patience, it was possible to taste everything! General admission ticket started at $150.00 each and a limited number of VIP tickets were available for $200.00 each.
With many new restaurants in attendance and expanded lounge areas, including photo-experiences, DJ's, live music and a silent disco, LOWFF was far from the same old festival. I spent the most time at High West Distillery's lounge. At the lounge I could let my early food settle while sipping a solid Old-Fashioned cocktail and enjoy a live band playing some mellow western tunes. Talking to festival-goers, all veterans of the event, I heard multiple times: "this is the most I've ever had to eat (at LOWFF)!"
Diving into the food, for my first plate, I enjoyed some super sticky and pillowy cinnamon bun bites from New River Café & Bakery. From there, I sampled some fresh doughnut holes from The Hollywood Doughnut Factory – the Red Velvet was exceptional. I washed my sweet appetizer down with some Papa's Pilar Rum, like Hemmingway would have enjoyed, thanks to the exclusive provider of wine and spirits, Southern Glazer's Wine & Spirits.
Jumping back into the food, I went on to enjoy a creamy, cheesy, pesto and pine nut packed pasta dish from Timpano Las Olas. Next, I grabbed a scrumptious mini-Caprese sandwich with tomato, balsamic and mozzarella from Gran Forno Pronto. From there, American Social's Sticky Icky Lollipop Chicken wings were tangy, crispy and super saucy. Some restaurants offered multiple options, including Fogo De Chao with a fine selection of red meat and sausage and on the lighter, seafood side, Tommy Bahama, offering a range of bites including mini key-lime tarts, guacamole, and ceviche presented on a lime – all fresh and flavorful.
Other food highlights included a scrumptious braised short-rib taco from Abiaka Wood Fire Grill (at Seminole Hardrock), a spice-packed samosa chat from Deccan Spice Indian Kitchen + Bar, a creamy sausage laced paella from Santiago's Bodega, Yolo's always tasty tuna tartare on a crispy cracker, coffee flavored Italian doughnuts from Fritto, Mexican street corn pizza from the Palm Room – served with their "Pick-up Lime" cocktail, and some savory and delicious jerk chicken from Big City Tavern. With so many exceptional food and drink offerings, it's usually hard to pick one favorite at an event like this. However, this time, there was one bite that conquered them all: Abiaka Wood Fire Grill's glittering-gold dessert taco featuring a cornmeal cookie with dulce mousse, roasted corn white chocolate ganache, dipped in milk chocolate and hazelnuts.
As I stared to run low on space for food, my focus shifted to cocktails. With no shortage of options, I was really feeling the party after samples of ATIAN Rose Gin, Barcelo Rum, Bacardi, Tequila 512, Ole Smoky Distillery, Santa Teresa 1796 Rum and Truman Vodka. With so many food and spirit offerings, I was less focused on wine, but for the "winos," there was a solid supply from an array of renowned wineries including Marqués de Riscal, Hampton Water Rosé, and Biltmore Estate Wine Company.
After 27 successful years, like the local restaurant scene, LOWFF continues to impress and evolve. For more information about the event visit: https://lasolaswff.com and for more information about American Lung Association visit: https://Lung.org.
Brand Launch and Art Exhibition Brings in Popular Company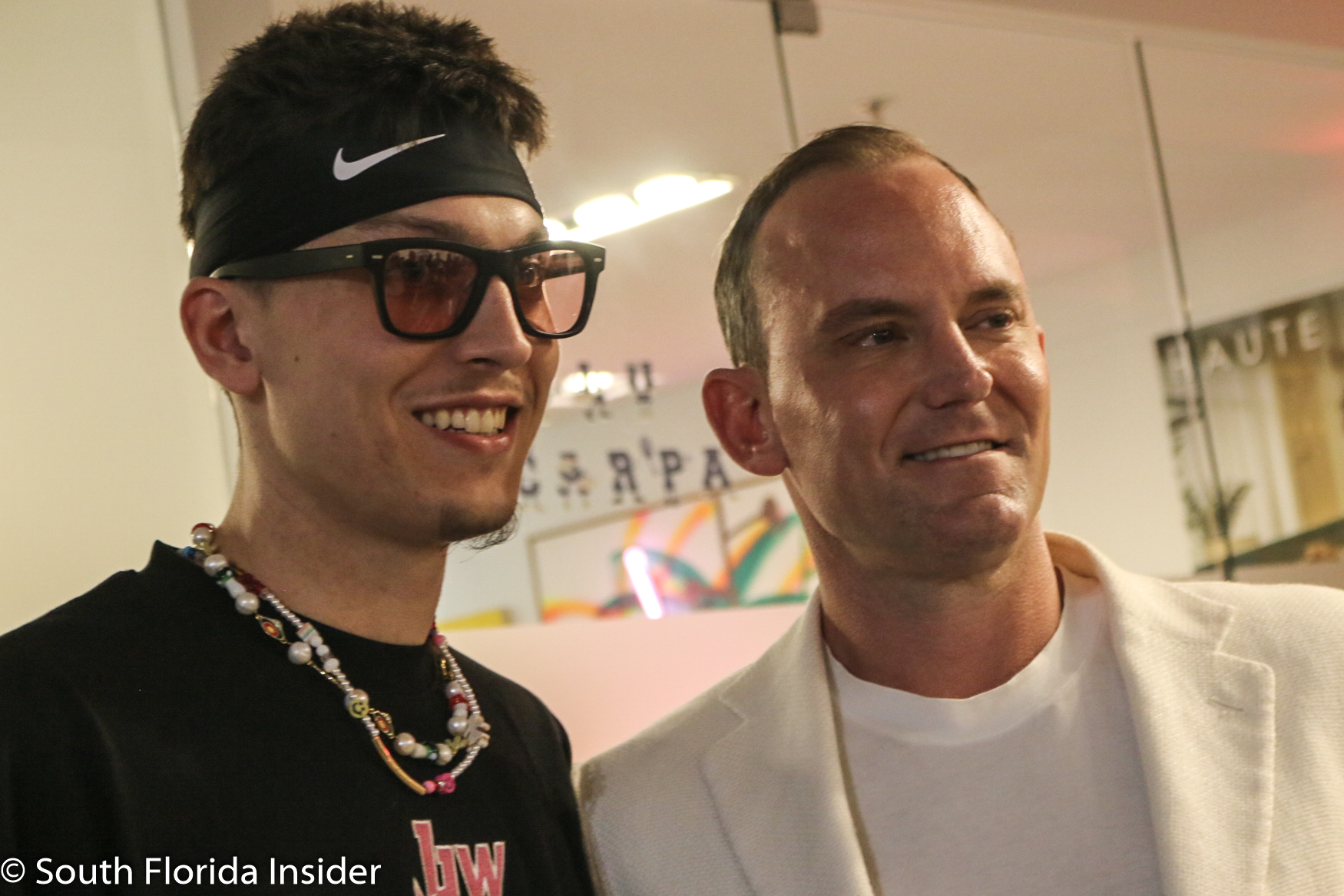 Miami Billionaire Patrick Carroll joins forces during Formula One for Miami Heat's NBA Hot Shot Tyler Herro's Boy Wonder World Lifestyle Brand Launch and SOLARIS Art Exhibition to benefit charity.