Hulaween X: A Decade of Beats & Bliss!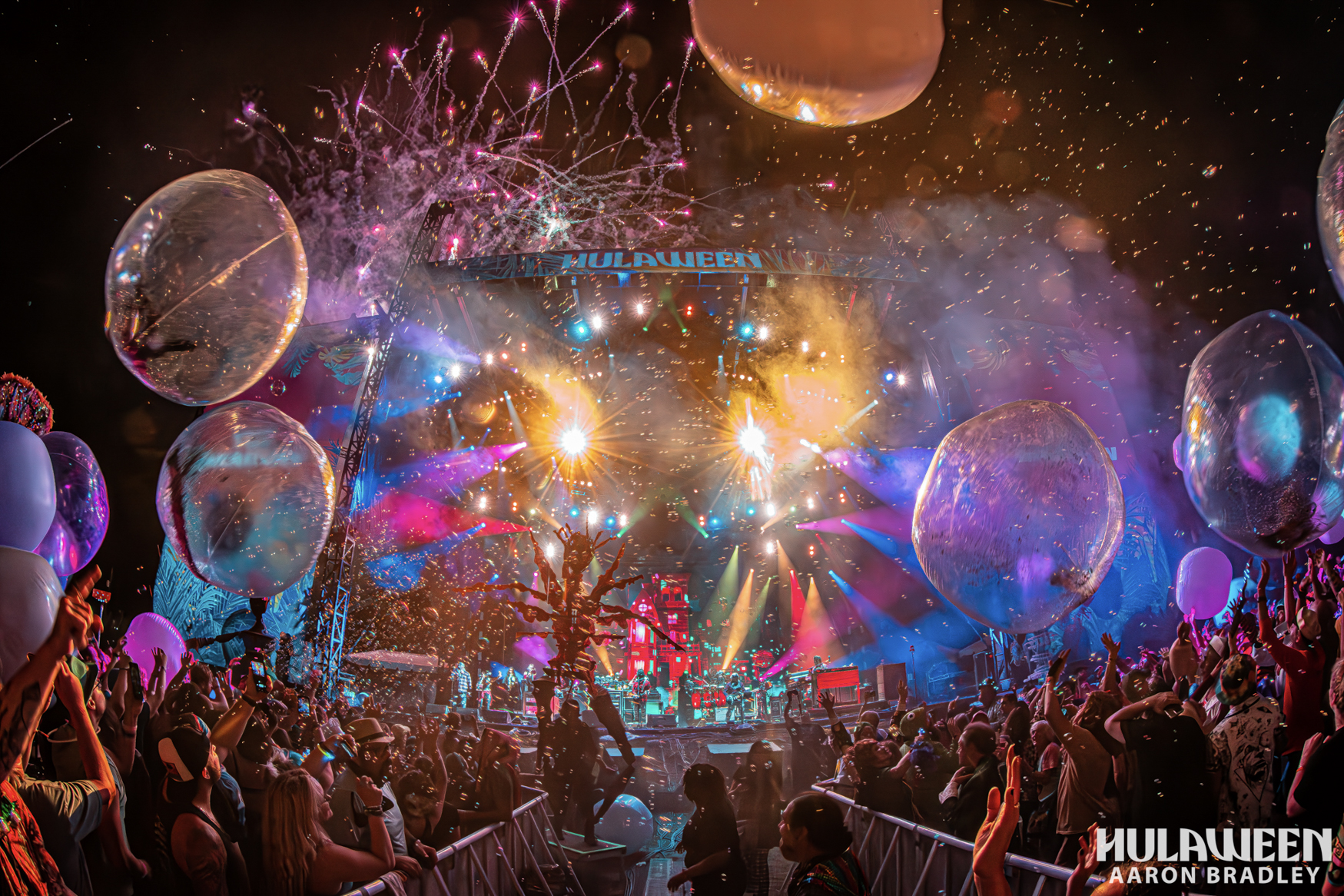 For the 10th inaugural Suwannee Hulaween at Sprit of Suwannee Music Park, little can say more than "Holy-Hecking-Hula-Happyween!!!!"
October 26th – 29th, 2023
Day 1- Thursday
The stress of entry & set up behind us, jubilation began before any at camp wandered towards the feast of music our gregarious gluttony came to devour.
MZG made me drop my crew for the beats dropped, too nasty for most the crowd to meet, still simmering from the festival's ignition as we were.
Joshwa's high energy EDM brought Amy Winehouse to life. Dark, spooky bpm resurrections to follow.
Atlin Gun's instrumentalist vocalizations rose like amber light to attract the moth- risings withing us as the shadowed sunset settled down. Not next-door to Khrugbin, but kitty-corner with their Persian (Turkish) in-laws, beautifully haunting vocals soared like a Djinn to the instrumental conjuring of the band.
Full moon clothed by clouds seductively as those below, full honesty of night's hijinks began as people scampered beyond the false personas of normal life. This was Hulaween's first proper night: near full moon shining & crowd ravishing for much more to come.
So Down, at the astonishingly beautiful Spirit Lake, melded arpeggios beautifully into a brass & bass filled crescendo. Cutting deep into the dance floor, visual light-mapping blew previous years' displays away. Contouring every statue & screen as the light-artists pleased, a lovely AV dance theme for the nights ahead.
Back to Blond:ish, she brought Disco‐House to the packed Amphitheater stage. Easily imagined grinding teeth to match the bodies grinding all around to the jungle, Blond:ish brought us: uncaged was our becoming. OK, Barbie- let's go party! Her hats off to Lauryn Hill, Blond:ish herself a doll eternal.
Ripping away to catch JRAD (Joe Russo's Almost Dead), finding the 5 instrumentalists coordinating like communal waves on their own ocean. The crowd's adoration put the speakers to the test. Tunes timeless as could be recorded spilled up the hill and into campside alleys.
Journalistic obligations lead me from Fire On The Mountain to investigate Spirit Lake's Lost Burlesque Show & Sultry Liquid Dance Movement workshops: the sacrifices your dedicated narrator makes for Education & the Arts. Low-fi & family safe(ish).
Inzo was great to tour the art around Spirit Lake, but the deep drill-ish house of John Summit brought me back to the Amphitheater. John Summit brought a steamroller of a sound-bath down upon us. I could not leave until soaked in my own sweat and emotionally flattened by the intensity he brought.
Awaiting JRAD's second set, I rested my legs with Cammy, a 1st time Hulaweener attending with her son for his 20th b-day- his 1st festival. "I'm never going to find those kids," she smiled gesturing into the night. JRAD's music ensured they were having a blast.
If anyone doubts the Singularity grows near, just look at bubbles technology year to year. It is said that Aphrodite herself emerged from seafoam, so much more lovely goddesses danced among the ocean of bubbles washing over the weekend.
Catching a backpacked neighbor sleep-dancing, many fought the allure of rest to indulge in sweet, sweet music.  Serpentine corridors echoing around, catacomb-like in the musical stirrings of JRAD's jazzy avant-garde set.
Bouncing back to John Summit, the hip-bouncing vibe-squad was crowd-wide. Hats off to the high-hat!
After a quick break at camp, rallying to see Kitchen Dwellers late at night didn't disappoint. Southern slide contoured up swampish spirits & dusty djinns, picking skyward to set spirits a 'flame.
With our reserves dwindling, we went to explore Spirit Lake & see what we could of Kendall Street Company before heading back to camp. On the way, stories were shared, though we all shared one story: a incredible 1st night of Hulaween!
Day 2- Friday
Lazy start, I joined friends for a quick but arduous bike-ride through sand to enjoy a quick dip in the Suwanee River. Swiftly bouncing to catch Maria Tambien at the Amphitheater, she is no seamstress, though she certainly she cut it up behind her decks. No loom needed for her tapestry of beats to arise, giving dark basement vibes to the humid afternoon.  Smiles and hugs were shared among friends in the rocking shade of the Amphitheater's Spanish Moss.
Sadly, missing the much-anticipated Stealing Peaches our of biological necessity for some food and rest, unlike Spirit of Suwannee's Springtime Resonate festival, there is no-way to catch all of Hulaween's amazing music, often simultaneously performing on 4-6 different stages, including Spirit Lake's Incindia and Chapel of the Lost stages.
Back to camp for a bath, bite & break before crashing back for String Cheese Incident's first of two sets this Friday night of Hula. Cheese's "can't stop now" got the evening mirthfully marched on towards a much-celebrated sunset. Feel good tributaries flowed from their shared source to the river they smoothly tumulted into. Drumming diversions, flashy bronze suspense, then running to comforts of Studio 54's on blow & acid. Mellowing out like grandma's honeyed tea, SCI ended their set gently as a goodnight kiss.
At the adjacent Hallows stage, listening to Lettuce at Spirit of Suwannee sounds like home. Beginning with Mt Crushmore. The funky fellowships Disco grooves caused howls well before moonrise. By the time they fevered up to the twang-riddled bass slapped in the face of the Flu, all the crowd was getting gloriously hot-&-bothered. Keys tightly coiled about the neck as drums squeezed an onslaught without remorse, horns circling like crows above the slaughter of sound. Slasher victim costumed revelers looked right dancing with abandon as nights darkness began to blanket us. Resting my velvet heart on the supple couch of 'Everyone Wants to Rule the World," soul freed from tethered pains of body & mind as sounds soared us heaven-sent. While my dearly beloved band concluded their spectacularly funky set, I ran off to help welcome newly arriving friends to camp.
Leaving beloved Lettuce to meet a more beloved friend who just arrived took me past Blu de Tiger, whose refreshing pop-punk vocals countered Chyl's high bpm (and rather unchillable) set.
Miraculously coalesced, our party reunited as String Cheese Incident's second set surged on at the main Meadow's sage. Groovy vibes carved deep as hips dipped, beats bouncing with vigor of countless loins. Keys danced- not as so many fingers upon flesh- but all our willing ears.
Les Claypool's militaristic Ants Go Marching broke into his irreplaceable sounds upon bass & mike as he introduced his wacky self, wonderfully wackadoodle bandmates, and began with Up on the Roof & then David Malakaster. Bending bass to will, faces filled with fierce funk he brought. Believe him when he spoke poetically about the crowd & phallic totems too torrid to type. Simultaneously spread between most disjointedly danceable &andmost intriguingly challenging music of the weekend, Claypool & company rummaged deep into our minds.  Their cover of Pink Floyd's Pigs/'Big Parade' set fire to souls'n'spliffs, bassilly reaching through half a century of mind melting music. Covering English Beat's "Mirror in the Bathroom," their close with Whamola sent the crowd spinning, freshly smacked by the musical prize-fighters as we were.
Trey Anastasio brought a chorus to church with Set your Soul Free after a glorious opening with Caiman Review fit for Mardi Gras. While his voice was rough, his instrumental skills were phenomenal, and back-up singers ensured vocal delights abound.
While camping out for a good place for Goose, Chanel Tre and Eprom enticed me from the comforts of well-known companions. Musical wonderments wait for no one!
Eprom's brutal bass set was too electrifying while Chanel Tre's bpm sent me to the coffee bar as stronger stimulants had those dancefloors to play upon.
With a fresh cup of java, I joined my friends at Goose… I now saw why the Goose-squad was so well represented among the crowd at Hula, why String Cheese got them on stage earlier that day, and how they took southern rock jazz funk vibes to new arenas. Their tasty rendition of Take 5 is already a coveted recording to treasure for generations to come. With many existing diehard fans, Goose converted all us rest.
My full heart & weary body mourned missing Le'special, though some at our camp dived into their closing set to have a undeniably incredible time. Reports of the fury they brought made me anguish over my limitations to soak them up.
Day 3, Saturday
Waking in sunlight to ripples of laughter streaming forth from camp neighbors (applauded for their night's before choral accompaniment to Bowie/Queen's Under Pressure), some never slept. An artist, David Brennon, has been printing his work since '87, came by w some irresistible prints of beloved music idols. A friend bought a poster for our whole camp to sign. It isn't just the music, the art, the scheduled events of Hulaween which makes it so special. It is the community, the crowd. There is so much art and love within us all, and Hulaween helps us to tap in and over-flow to give it back to the world we share.
Leaving my campmates to catch Marvel Years' early set, we watched him shred guitar over colorful tapestry of beats, sparkles and other beautifully artistic sounds ending with his bouncy remix of Fleetwood Mac's The Chain ensured classic music will never be forgotten & continues to grow. Funny, as the previous night at Goose, I had heard some near retirees warning to 'stick to the bands and avoid the DJ's,' though so many of the weekend's digital musicians ensure the torch of classic rock remains novel and new for generations to come. Dust off those rock classics and bring them to the dancefloor!
Again, we escaped the day's heat for a few hours to enjoy conversation & cool times in the Suwanee River before getting ready for Cheese. Tishmango, Funk You, Cadillac Jones and Champagne Drip, all playing as we got our fill of the river, were missed.
SCI (covering Stevie Wonder, Pharrell & Du Lipa), managed to fuse Boogie Nights/Just Dance/Dance-Monkey/Lose Yourself to Dance/Tiny Dancer together. Greasing the grooves for a smooth and sexy night head, delights of this set set our hearts and vibes soaring.
Manic Focus never disappoints. Their wicked Rage Against the Machine cover made their jaws drop. At any point they could be seen or heard at Hulaween… Manic Focus killed it!!!
We wandered to Spirit Lake to see what Pigeons Playing Ping Pong all were about. With a densely packed crowd, their sounds did not engage us as much as others seemed to enjoy. "A jam band cover band" is how one friend described their 'ok to miss' set.
Instead of Big Wild & Smino, I went to see the unique and beloved sounds of Pretty Lights. Playing with his grandma's crystal plate-ware, with a pillow-shackled shuffle, muffled dance beats creeped through us all. A subdued but peacefully engaging set, PL wove comfort around those attending the Meadows stage for his 1st set of the weekend.
Amphitheater to chill, we went to Spirit Lake to catch Ghost Observatory. Frustratingly long sound-check was further complicated by a tragic medical emergency near the front of the stage. A major area for the Spirit of Suwannee crew to work on is the responsiveness trained medical personnel. While no first-hand observation of what had occurred is known, reports of late arriving emergency personnel doing too little too late. As Ghost Observatory began an hour late after these complications, the music volume was very low and we decided to walk to soak up Spirit Lake vibes.
Passing the House of the Lost, each time I grew near it was simply too packed to join the partiers packed within its walls, and sound was not at high fidelity standing outside its people packed entrance.
Spirit Lake art & vibes, w a late night DJ appearance by Pretty Lights among fire dancers at the Incendia stage.
Final, Day 4, Sunday
Plans to chill at Dispatch before Cheese and Mt Joy, we arrived at the open fields shared by the Hallows and Meadows stages to hear Dispatch closing with their classic, 'The General.'
More or less sitting put, exhausted as our crew was from the marathons of music, we'd been running alongside the past 3 days and nights, SCI's final set of the weekend was their most joyous yet. Though missing the John Stickly Trio earlier in the day, when Cheese invited Jon Stickley to join them, the cap popped off the bottle of our jam-band exuberance.
SCI's set was so amazingly ecstatic, concluding with celebratory fireworks bursting near overhead, I needed the entire Mt Joy set to bring my heart rate down. Far back from the crowd nearest the stage, I soaked up the smiles flowing all around from friends and fellow festivalgoers.
Sitting tight with excitement for what Pretty Lights would bring for his second scheduled set (accompanied by longtime collaborator Michal Menert), beginning with sensitive, intimately inquisitive dance-beats. Dominoes, each echoing into eternity as they fell note by note; a cadence of dancers emerged, circling like thoughts and clouds overhead. Covering Simon & Garfunkel's Sound of Silence was a real treat! There was a turn, however, during the second half of this final PL set: sharing new music, PL had to let a lot of line out before really setting hook. This ineffectually engaging interlude really disappointed, before dipping back into some classics. "The best light-music I've heard in a while," overheard on my least harried bathroom break of the weekend. Turning that statement in its head and driving back to what Pretty Lights brought to earn place in our heartbeats & souls, a mash-up between the Dead's Shakedown Street while sampling Moby before closing with his classic, Finally Moving. Though helming the church we came to pray at, this particular sermon left things to be desired.
Those who caught Elderbrook and Apashe in place of Pretty Lights had only the best to say about their sets, profoundly peaceful and dank as they were said to be. If I had to do it over again (with energy I simply did not have), I would have skipped the latter portion of PL to catch these two and see what Sneezy brought to the eclectic weekend. Hula is many things, but it is certainly not a place to be caught with FOMO.
While The Ninth Power (presenting the Tenth Power) and Eddie Roberts Lucky Strokes remained as the final scheduled acts of Hulaween weekend, our crew lazily wandered back to camps for our customary final night cookout. Late into this final night, we laughed, we talked, we listened to music at camp, and cuddle-danced the night to near dawn.
The final morning, cleaning and clearing camp, bodies exhausted and hearts full, we said out bittersweet goodbyes-but-see-you-next-Hulas.
Kitchen Dwellers, Blond:ish, Marvel Years Goose were all new performers to see which made an instant fan of me. Daily Bread, Apashe & Elderbrook are the acts I most missed seeing.
Regardless of who next year's Hulaween may bring, you should bring yourself and your dearest friends. Having lived in New York City and Southern California, I can testify there may be no more wonderful festival to catch, coast to coast, than what Hulaween has blossomed into over the past 10 years. Every year to join is a year of celebration.
Honored and fulfilled to share another Hula, seeing you will make next year's even better.
Holy-heck'o'a'Hula, and what a Hula Happyween!
Riptide Music Festival is Back and Better Than Ever!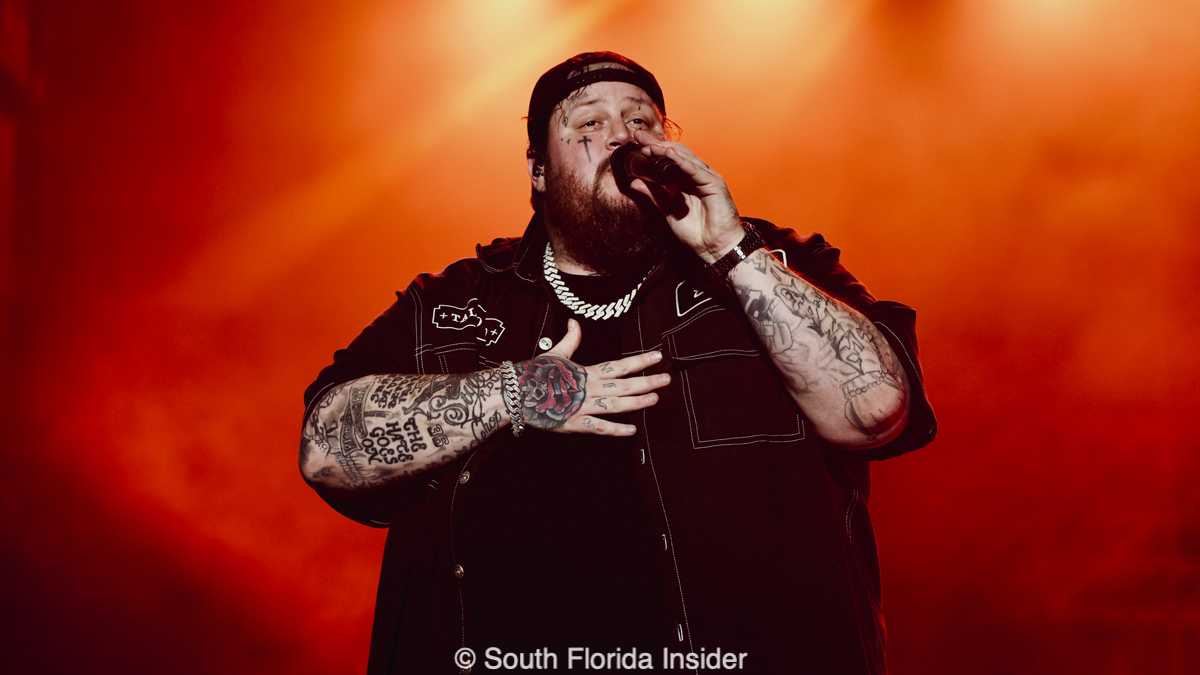 South Florida's Favorite Beachside Winter Festival Is Back With a Killer Lineup and an Incredible Show! – Review and Photos of the Riptide Music Festival in Ft Lauderdale, FL