40 Years of Morrissey Takes Over Florida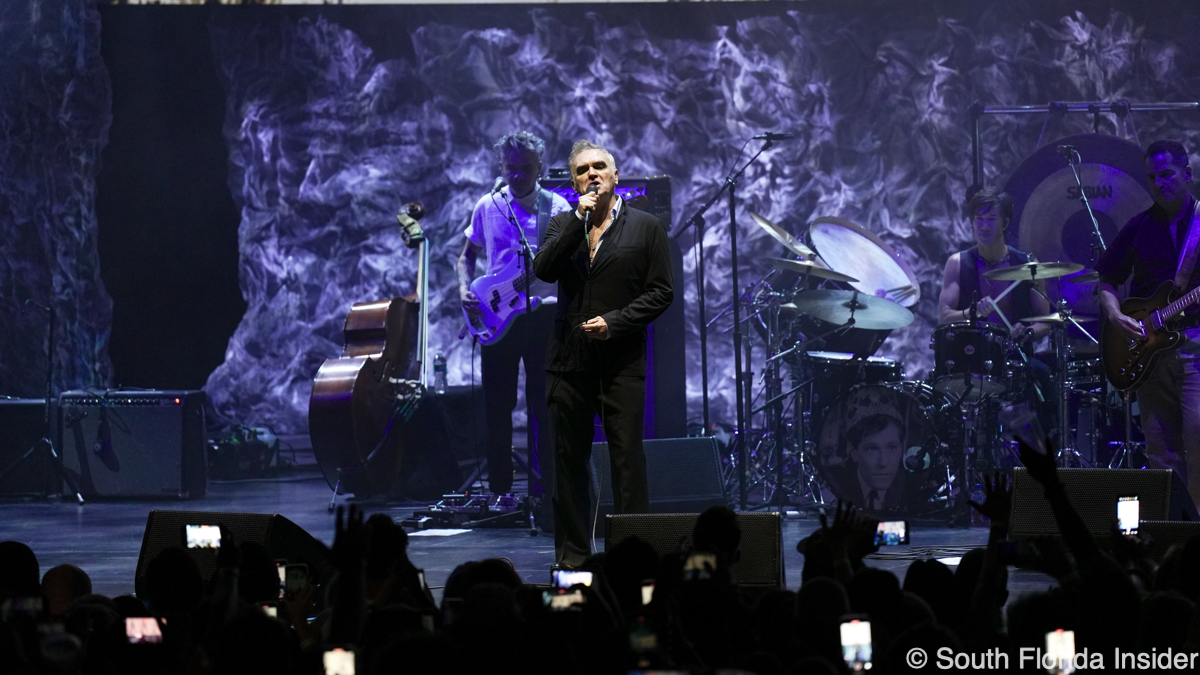 The Legendary Singer Delivers The Concert of a Lifetime Spanning His 40 Year Career – Photos and Review of the Morrissey Concert at the Hard Rock Live in Hollywood, Florida
The always mysterious and often-controversial Morrissey is currently on tour celebrating 40 years of music, and Florida was lucky enough to host the legendary singer for 3 nights of crooning. Playing at the luxurious Hard Rock Live in Hollywood, the show was a sight to behold for any fan of his work. With no opening act, the only appetizer before the main course was the….interesting choice of opening cinema.
Displaying on the giant screen on stage video reminiscing cultural influence, from Secret War atrocities to 50's era rockabilly shot in black and white, all worldly milieu which Morrissey & we had all seen soak through the eras before us. Prior to coming out, his curated television music montage was delightful, but not the show we'd come to see. At near 9p, had he not shown as oft rumored and feared?  The much grieved Sinead Conner's video Nothing Compares pacified the crowd's angst… to degrees. Nervous jokes that 'this may be his show,' dwindling shouts & a well throated "get on with it" from the crowd merely hastened more audio visual hodge podge.  Patience wore so thin that when David Bowie's face filled the screen just behind, the endeared oohs and ahs were drowned out by more peptic grumblings.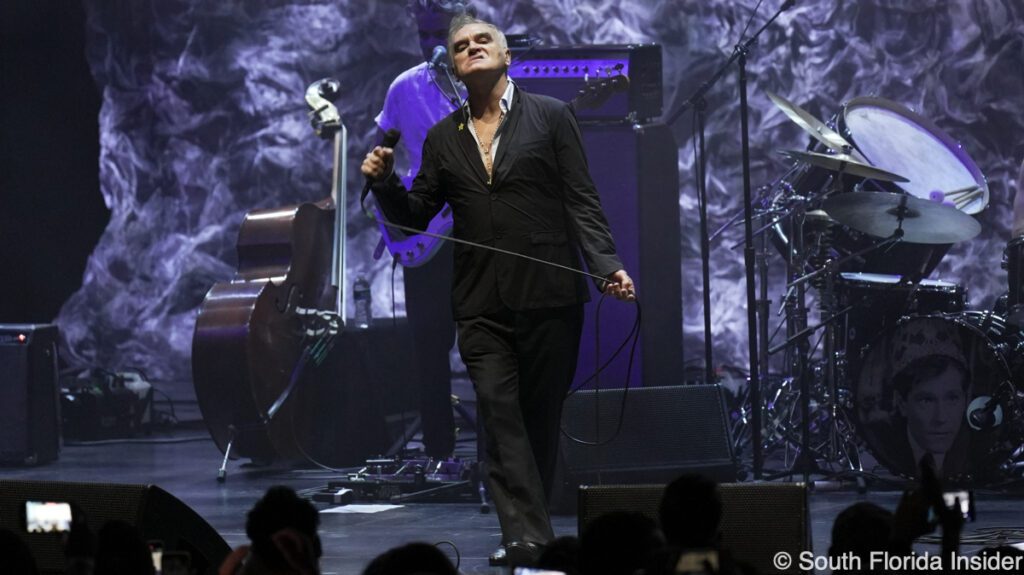 Then, at long last- bass drone, and then… 'Suffer Little Children' open, beautifully tight and velvet voiced as hoped & dreampt. Transcending genres, Morrissey's voice continued to soar across 'Alma Matters'. A harder 'I Wish You Lonely' rocked mournfully deep just after: should no one understand love of Morrissey's lyrics (despite less diplomatic things said in public), "I wish you lonely/ like the last humpback whale/ chased by gunships from Bergen/ but never giving in, never giving in."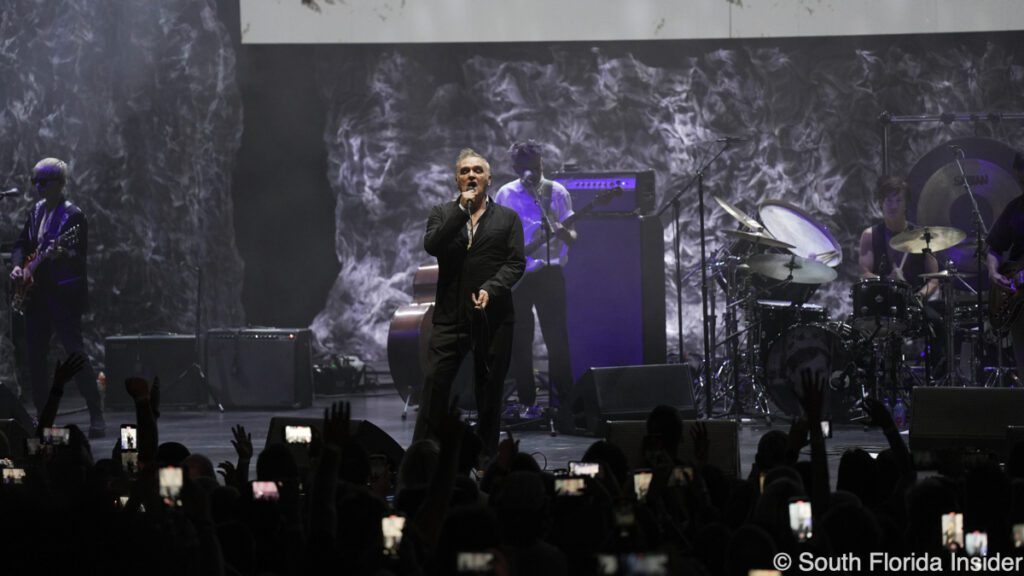 'How Soon Is Now?' got near the entire concert crowd up to dance emphatically. 'Irish Blood, English Heart' tore sweet wounds open to heal into 'Dear Frank'.  Sentimental hilarity still sounded sweet with 'Girlfriend in a Coma' (as sappy a song your author could savor), and cemented Morrissey's impact on musicians and fans following his 4 decade long career since starting The Smiths in '82 with Johnny Marr, late Andy Rourke & Mike Joyce.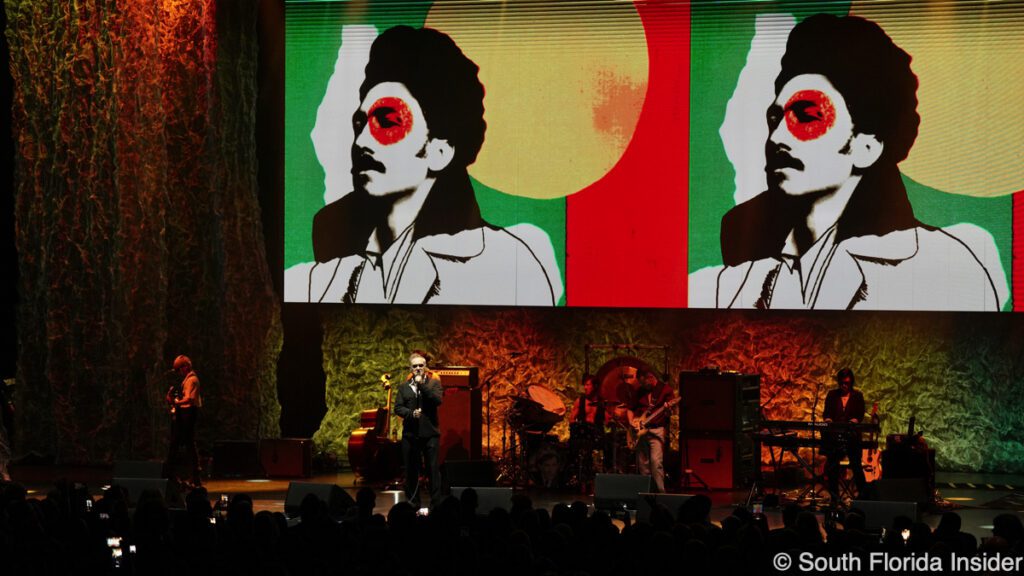 With 'Darling, I Hug A Pillow,' Morrissey brought tender, ascendant hilarity to marital disharmony & a sweet wish for better things. Before their next song, Morrissey joked about difficulties "finding a morning friendly" song for daytime television. 'Sure Enough The Telephone Rings' was offered, and they never called him back. As we listened, we understood, and counted daytime TV's loss.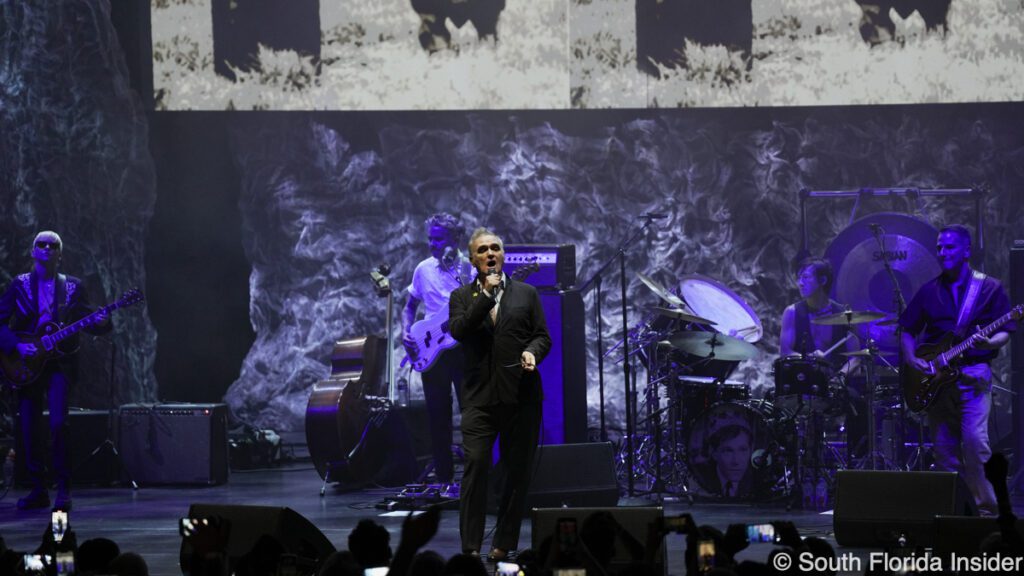 'Stop Me If You've Heard This One Before' from the Smiths heyday, then a hauntingly brooding rendition of 'The Beautiful South (Rotterdam)'. Then, 'Half A Person' played over a gently waving crowd of dancers. The empathizably cringey 'Let Me Kiss You' should be listened to by incels- because it's great… but for better or worse? Music strongly influenced by his time in America, shirts became undone as the 'Loop' began to rock.
Morriesy then introduced a new song! "The Night Pop Dropped": Ever out of step of mainstream sounds of the zeitgeist, I took it as something my uncle may think fitting of Studio 54's funeral dirge. 'Please, Please, Please, Let Me Get What I Want' took many back to their first romance with The Smiths 1st album, 1984's The Hallows. A gorgeous piano solo beckoned on 'Everyday Is Like Sunday', the crowd became Morrissey's church choir. 'Jack the Ripper' got lights & smoke effects on dark-goth rock style. Some in the crowd could no longer control their passionate adoration: A dude who rushed the stage was directed off safely by security without the band faltering a note. Rats, rats, rats… a curious note to end on?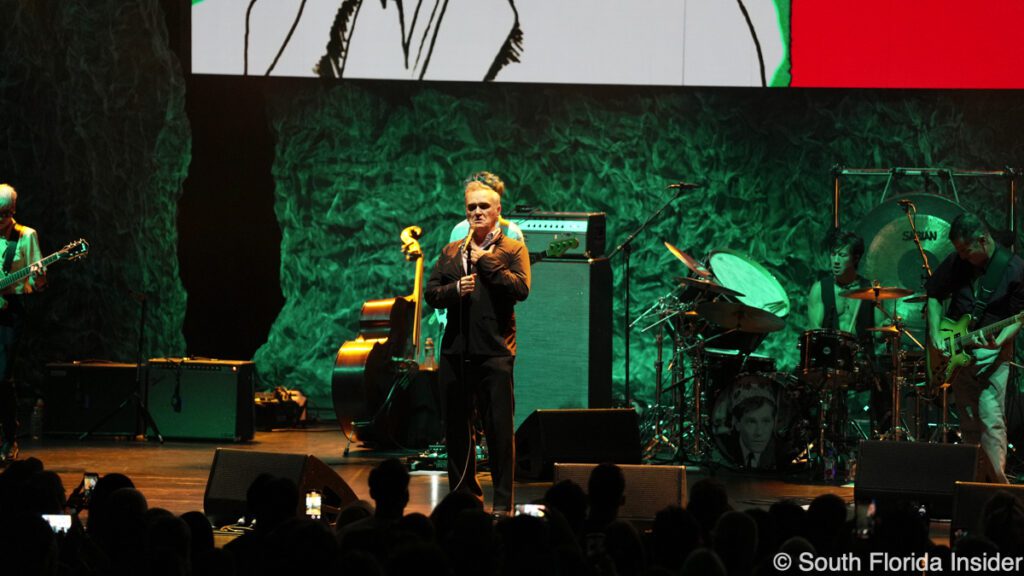 Fear not, as the band returned for an encore. At 52 years old, he left us with his "lullaby," 'Speedway,' the musical speed-ball that it was. In these final musical moments, another fan rushed the stage to successfully hug Morrissey lightly as he continued to sing flawlessly, smiling harmlessly in success as security peeled him away the beloved star.
Morrissey courted controversy as a career (and in life) as only a great artist can get away with.  We often throw people aside because they don't fit a main view we share.  Morrissey, while sharing views many find hard to agree with, is admired for his artistry, not his diplomatic or political considerations.  For someone famously pillorying Margaret Thatcher to now be compared with a villainous goose-stepping zealot, and this being reason to mute his music…. I'm not defending Harvey Weinstein, what are we do do with the many outstanding films he had been instrumental to.  Can we love the art, but not the artist?
I don't know the artist, Morriessy, or the context of all his misspoken moments.  I came to hear him sing, and no one sings like Morrissey. A wonderful show, unless you're out to burn unnecessary bridges, should you like his oft-emulated but irreplaceable style, catch Morrissey as you can.
Riptide Music Festival is Back and Better Than Ever!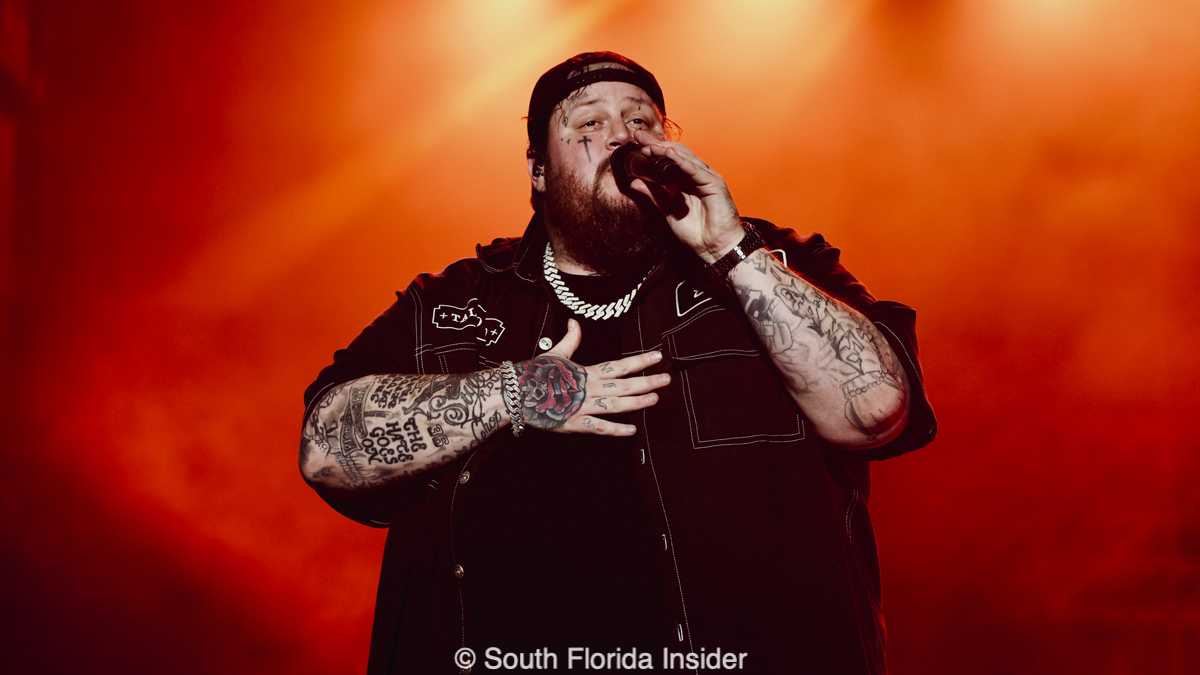 South Florida's Favorite Beachside Winter Festival Is Back With a Killer Lineup and an Incredible Show! – Review and Photos of the Riptide Music Festival in Ft Lauderdale, FL