The Impractical Jokers Murr Coming to South Florida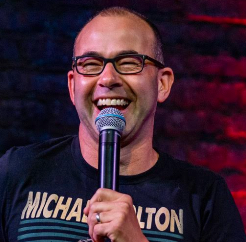 In an exclusive interview, Impractical Jokers star Murr shares insights into the challenges of traveling and the outrageous encounters with fans, providing a sneak peek into his upcoming shows and future projects.
September 28th, 2023
Murr, known for his hilarious pranks on Impractical Jokers, revealed the amusing conundrum of traveling versus filming for the show. As he exclaimed, he has more trouble remaining inconspicuous when dealing with TSA when he travels compared to his work on the show. His TSA stints often turn comical since his driver's license displays his signature browless look courtesy of his co-stars giving him a punishment. The funny thing as he emphasizes, we've done TV for 13 years, but we don't look famous. I look like a pharmacist, not a celebrity and we're able to pull off pranks without arousing suspicion.
Sharing a bizarre fan interaction, Murr recounted a memorable incident at a Giants game. Amidst a crowded men's room, a fan, squeezed shoulder-to-shoulder at the urinals, leaned over and whispered, "Am I on TV?" Murr reassured him that halftime at Giants Stadium's restroom definitely wasn't a filming location.
Transitioning to his upcoming Improv shows in South Florida, Murr spilled the beans on the interactive experience awaiting the audience. We're taking Impractical Jokers live to the streets, he exclaimed. Volunteers equipped with earpieces will embark on live, improvised pranks, streamed back to the audience in real-time, promising an outrageous night of laughter.
Reflecting on the unintended consequences of their pranks, Murr shared a cautionary tale about borrowing iPhones for a live texting game. "There was one time where I didn't know the woman was cheating on her fiancée when she lent me her iPhone and go figure that couple is no longer getting married." To avoid further mishaps, he humorously warned against lending a comedian your iPhone, especially if secrets are involved.
Switching gears, Murr discussed his bond with his fellow Jokers. "We're best friends. Who else am I going to see Barbie with?" he joked, emphasizing the camaraderie that extends beyond the screen.
Delving into their show's origin, Murr revealed that the network named it Impractical Jokers, a choice initially disliked but eventually embraced. He chuckled about their initial preference for "Mission Uncomfortable," revealing that his speech impediment made pronouncing "Impractical" just well impractical. Also in a hilarious story, he mentioned how the word impractical, does not translate into all languages so countries like Holland give it a slightly different funny meaning. (Worth looking up).
Looking toward the future, Murr teased a potential sequel to the Impractical Jokers movie. Excitement filled the air as he described plans for the world's first hidden camera erotic thriller, blending improv and hidden cameras in a uniquely hilarious manner.
Finally, Murr revealed some surprising talents. "I'm not just a quantum physics enthusiast," he laughed. I can juggle Devil Sticks masterfully and catch 27 quarters stacked on my elbow… just not 28, he said,
Before concluding, Murr extended a generous offer. "Attend all five of my Dania Beach shows, and I'll buy you a drink afterward," he grinned. He also excitedly announced the Impractical Jokers cruise departing from Miami to the Bahamas from January 22nd to the 26th, promising a memorable experience for fans.
In a whirlwind of laughter and anecdotes, Murr left us eagerly anticipating his upcoming shows and future pranks, reminding us all that the world is a bit brighter with a touch of impracticality.
Stavros Halkias Brings a Night of No-Filter Comedy to South Florida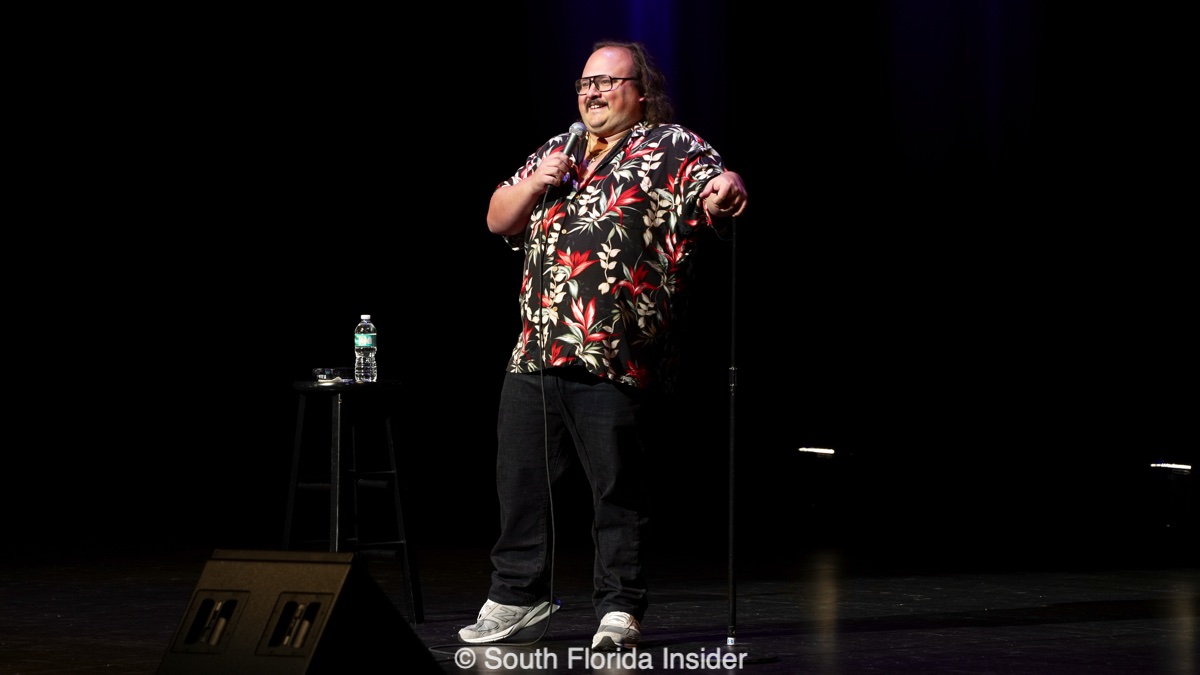 The Greek Gremlin of Comedy Brings His "Fat Rascal" Tour to the Beautiful Halls of the Au-Rene Theater – Photos and Review of the Stavros Halkias show at the Au-Rene Theater at the Broward Center For The Performing Arts in Ft. Lauderdale, FL