Gem & Jam unveils 2024 lineup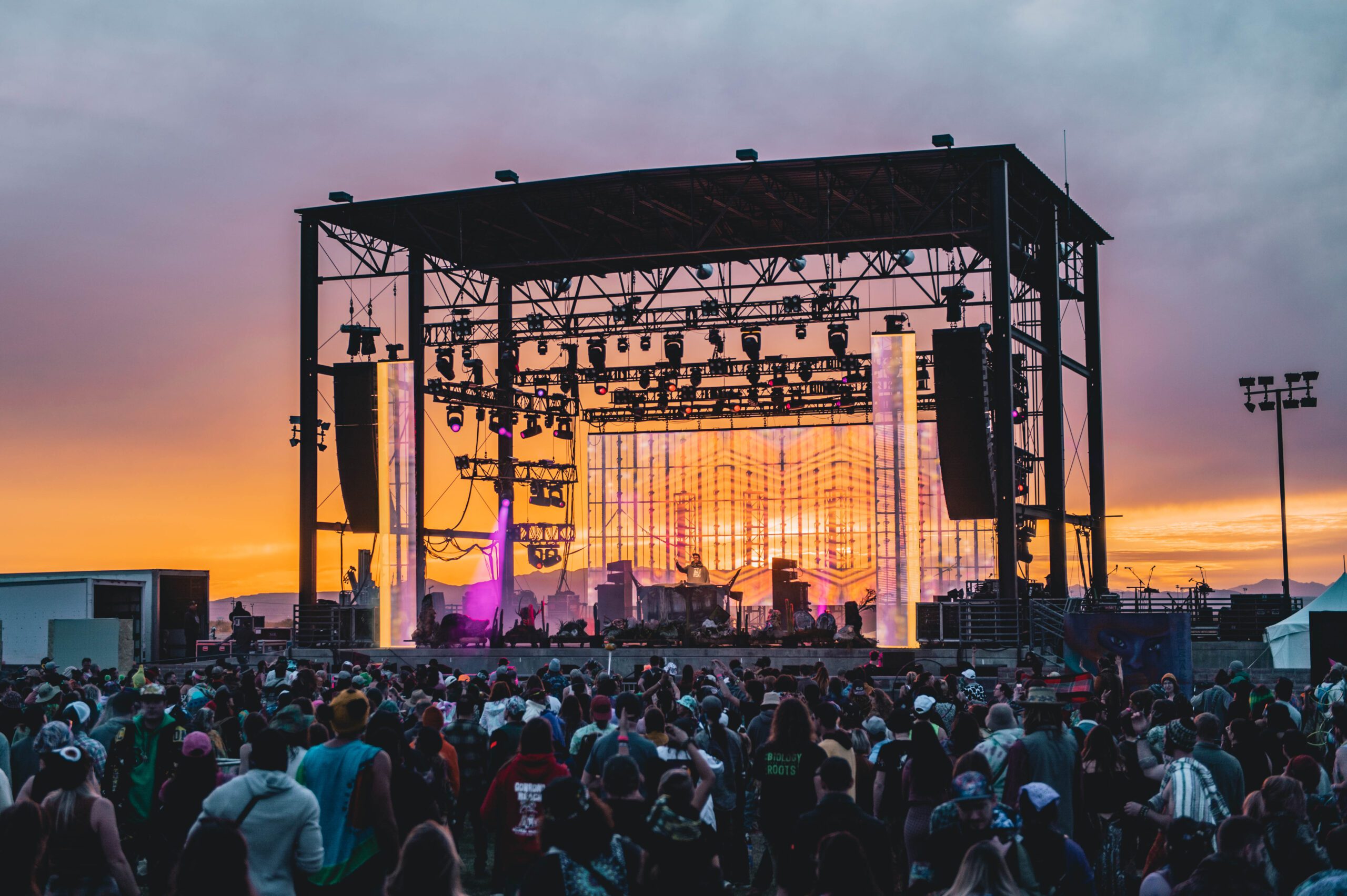 Gem & Jam unveils 2024 lineup: The Disco Biscuits, Of The Trees, Boogie T, Lettuce, Spafford, LP Giobbi & Daily Bread
September 21st, 2023
The genre-blending music and gem & mineral festival returns to Pima County Fairgrounds from Friday, February 2 – Sunday, February 4, 2024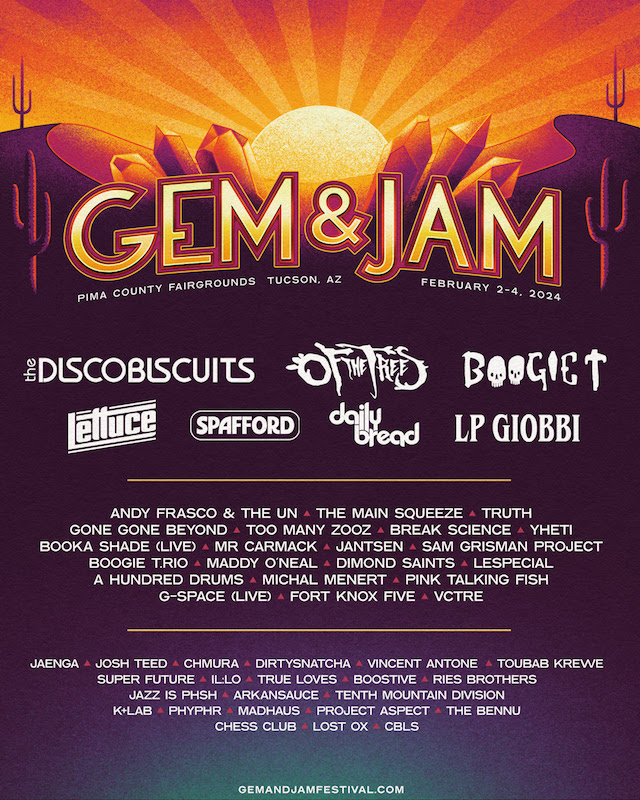 Gem & Jam Festival has announced the full lineup for its 16th annual edition, set to take place February 2 – 4, 2024. The three-day music, art, performance, and gem & mineral festival will return to the scenic desert landscapes of Pima County Fairgrounds in Tucson, Arizona. 
Headliners include Philadelphia-bred jamtronica outfit The Disco Biscuits, genre-blending bass act Of The Trees, two sets from bass producer/multi-instrumentalist Boogie T (one solo and one with his band Boogie T.RIO) and house maestro LP Giobbi making their Gem & Jam debuts. Gem & Jam veteran headliners include funk-fusion group Lettuce, Arizona's-own multi-genre jam band Spafford, and versatile electro-soul artist Daily Bread.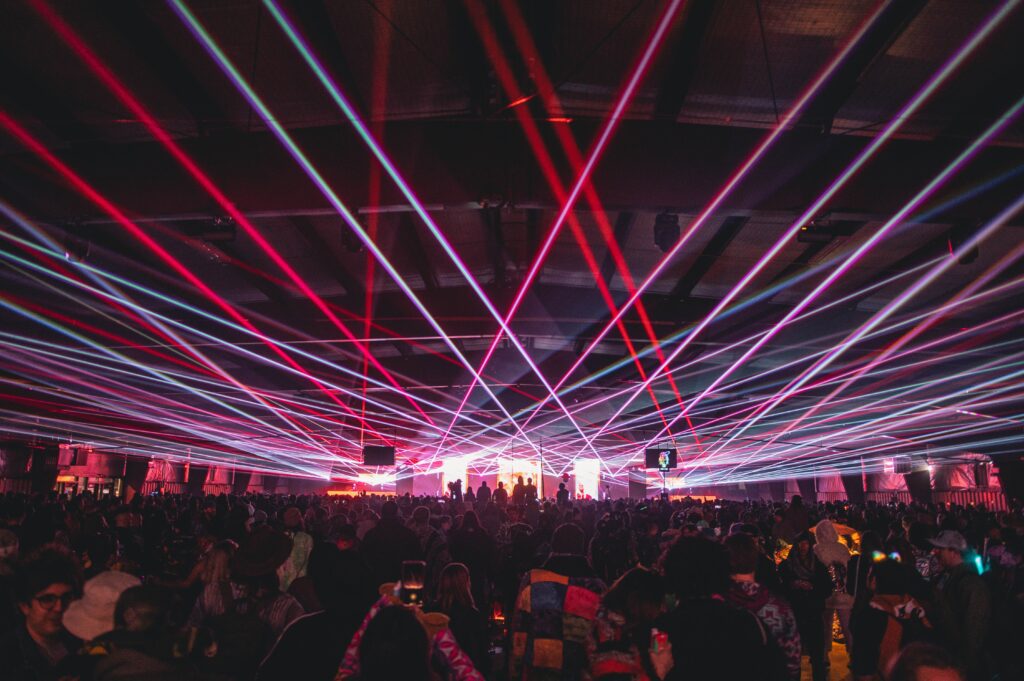 Gem & Jam Festival will also welcome back acts such as live electronic duo Break Science, two sets from boundary-pushing bass queen Maddy O'Neal (one regular and one MadHaus house set), electro-soul pioneer Michal Menert, and more. 
First-time Gem & Jam Festival performers include acts such as blues-rock outfit Andy Frasco and The U.N., funk-five piece The Main Squeeze, New Zealand dubstep duo TRUTH, folk-americana and roots outfit Gone Gone Beyond, New York brass house group Too Many Zoos, experimental bass producer Yheti, German house duo Booka Shade (LIVE), hip-hop-infused dance artist Mr. Carmack, Subsidia Records favorite Jantsen, the Dave Grisman/Jerry Garcia-tribute collective Sam Grisman Project, Oakland-based soulful bass duo Dimond Saints, future groove trio lespecial, and percussion-oriented bass artist A Hundred Drums. 
The Gem & Jam Festival 2024 lineup is rounded out by Fort Knox Five, VCTRE, Jaenga, Josh Teed, Chmura, Vincent Antone, il:lo, Phyphr, Parkbreezy, VCTRE, and more. 
Speaking on the 2022 edition of Gem & Jam, Billboard stated, "Gem & Jam's intimate footprint (three outdoor stages, an indoor space, a row of food and craft vendors and areas for live artists and workshops) made it possible to explore every nook and corner of the site, much of which was decorated with a gem theme…With 6,000 attendees … this was the biggest iteration of the festival to date. Still, the vibe was homey and homespun." 
Located on 640 acres and just 20 miles south of downtown Tucson, the Pima County Fairgrounds is surrounded by nature and resides in a stunning desert environment, creating an expansive and magical setting perfect for Gem and Jam Festival. Similar to years past, Gem and Jam will offer on site camping, RV passes, glamping options, late night music, daytime workshops, delicious food & drink, a world renowned vendor bazaar, and of course, around the clock music and art.
Glamping options are not included with ticket admission and are available for purchase separately via the Gem & Jam website. Reserved in a shaded campsite on grass, each luxury tent sleeps two comfortably and comes inclusive with an inflatable mattress, bedding, furniture, space heater, and electricity.
Following their successful 2022 and 2023 partnerships, Gem & Jam is once again teaming up with environmental festival organization Green Disco to improve the festival's environmental footprint and give its audience the opportunity to have an eco-friendly experience. Gem & Jam attendees can buy a Green Disco Eco-Band – an optional ticket add-on that unlocks  a 10% discount on merchandise and supports the festival's goal of planting over 500 trees locally in Tucson through the Million Trees project. Learn more about the project and the benefits these trees will have for the local area and people through Tucson Clean & Beautiful.
Gem & Jam Festival 2024 full lineup
The Disco Biscuits
Of The Trees
Boogie T
Lettuce
Spafford
LP Giobbi
Daily Bread
Andy Frasco & The UN
The Main Squeeze
TRUTH
Gone Gone Beyond
Too Many Zooz
Break Science
Yheti
Booka Shade (LIVE)
Mr. Carmack
Jantsen
Sam Grisman Project
Boogie T.RIO
Maddy O'Neal
Dimond Saints
Lespecial
A Hundred Drums
Michal Menert
Pink Talking Fish
G-Space (LIVE)
Fort Knox Five
VCTRE
Jaenga
Josh Teed
Chmura
Dirtysnatcha
Vincent Antone
Toubab Krewe
Super Future
Il:lo
True Loves
Boostive
Reis Brothers
Jazz is Phish
Arkansauce
Teeth Mountain Division
Parkbreezy
Phyphr
MadHaus
Project Aspect
The Bennu
Chess Club
Lost Ox
CBLS
Amara Cay Resort & Marina Announces Holiday Events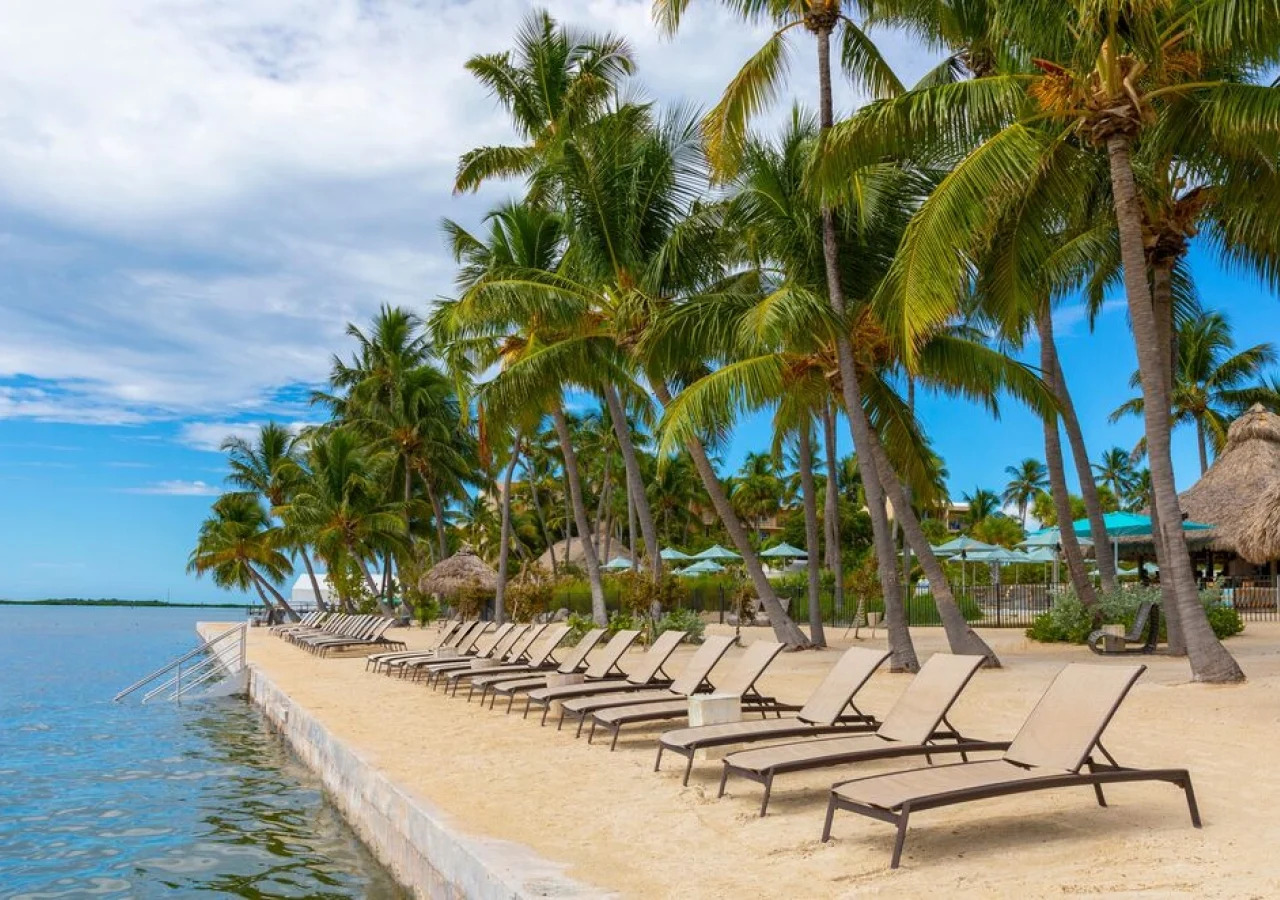 Experience a Tropical Holiday Wonderland at Amara Cay Resort: Christmas Delights at ReelCatch and a Spectacular New Year's Eve Soiree.

(more…)