North Beach Music Festival Announces 2023 Lineup

NORTH BEACH MUSIC FESTIVAL RETURNS TO MIAMI BEACH, FL FOR ITS THIRD YEAR & PLEDGES TO DONATE $1 PER TICKET TO BACKLINE
September 12th, 2023
JOIN THE DISCO BISCUITS x 3, CORY WONG, SUNSQUABI, GEORGE PORTER JR. & RUNNIN' PARDNERS, EGGY, DANIEL DONATO'S COSMIC COUNTRY & MORE OVER DECEMBER 1–3 IN MIAMI BEACH, FL
GENERAL ON SALE STARTS FRIDAY, SEPTEMBER 15 @ 12 PM ET VIA NORTHBEACHMUSICFESTIVAL.COM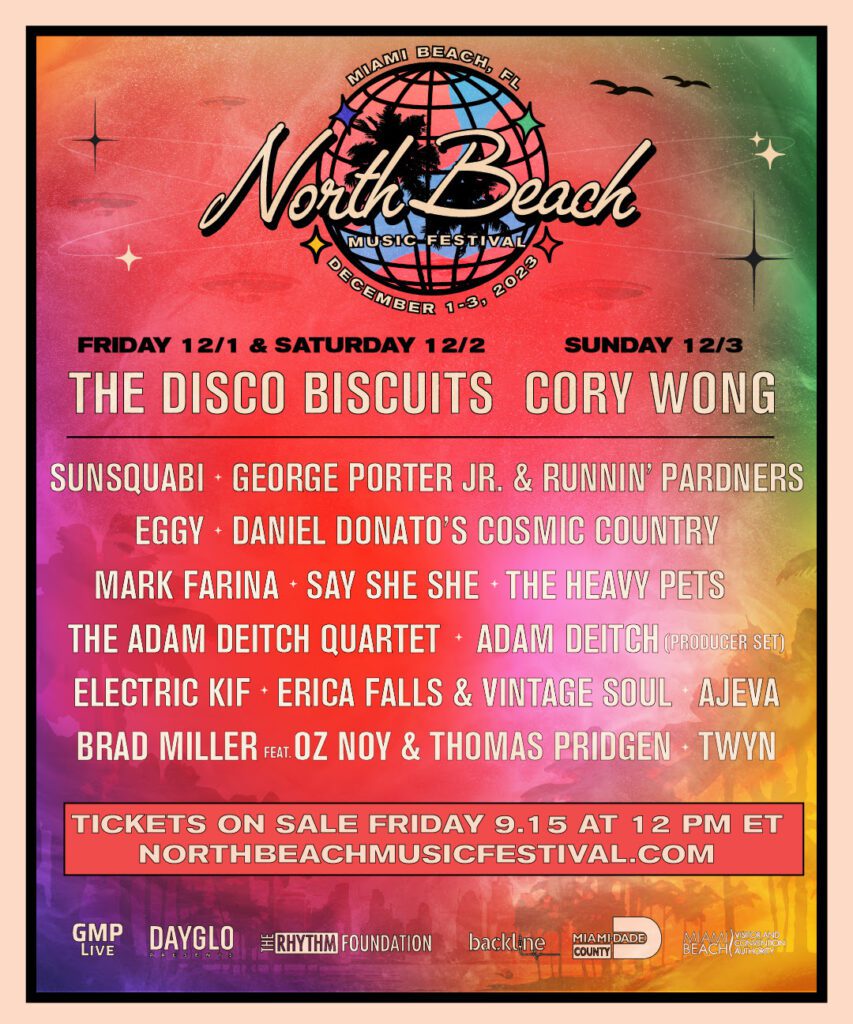 Miami-based concert promoter and event producer GMP Live is thrilled to announce the return of North Beach Music Festival for its third year this December 1st–3rd, 2023. In addition, NBMF pledges to donate $1 per ticket sold to Backline.
Taking place at the Miami Beach Bandshell and the adjacent Bandshell Park, NBMF 2023 is a partnership between GMP Live, Dayglo Presents, The Rhythm Foundation, Miami-Dade County Tourism Development Council and the Miami Beach Visitor and Convention Authority.
Reflecting on the return of NBMF, Gideon Plotnicki of GMP Live shares, "It's been amazing to watch this event and the community around it grow over the past few years. We're so excited to bring North Beach Music Festival back to South Florida this December with our biggest lineup yet!" Regarding this year's lineup, Plotnicki states, "We're thrilled to have The Disco Biscuits and Cory Wong as headliners. It's exciting to have such talented bands from opposite ends of the musical spectrum at the top of our lineup, and we're looking forward to showcasing just how musically diverse this scene is. We'll see you at the Bandshell in a few months!"
"We're excited to partner with GMP Live for this year's North Beach Music Festival," shares Peter Shapiro of Dayglo Presents. "With our passionate team at Dayglo and a world-class lineup of musicians, we're ready to craft an amazing musical experience for Miami's live music fans."
This year's lineup welcomes headliners The Disco Biscuits for three sets over the weekend, with two sets scheduled on Friday, December 1st and one set on Saturday, December 2nd, in addition to Sunday's headliner, Cory Wong. The festival's third-year lineup also welcomes the likes of SunSquabi, George Porter Jr. & Runnin' Pardners, Eggy, Daniel Donato's Cosmic Country, Mark Farina, Say She She, The Heavy Pets, Adam Deitch for both a quartet performance as well as a producer set, Electric Kif, Erica Falls & Vintage Soul, Ajeva, Twyn, and Brad Miller Trio feat. Oz Noy & Thomas Pridgen.
Friday night's festivities will take place exclusively in the Miami Beach Bandshell. While the Park will be open on Friday night, attendees can expect full food and craft vending, additional programming on the Park Stage and the Park Stage's immersive light show experience over Saturday and Sunday.
General on sale for the 2023 iteration of NBMF starts this Friday, September 15th, 2023 at 12:00 PM EST via northbeachmusicfestival.com. Fans who wish to secure their tickets earlier can join the festival's mailing list here for an exclusive first-access pre-sale that starts Wednesday, September 13th at 12:00 PM ET.
This year, the festival will once again offer two- and three-day ticketing options, as well as a new ticket type, GA+, and three different levels of VIP.
Fans looking to attend the festival for two days can choose to attend either Friday and Saturday or Saturday and Sunday. The new GA+ ticket option allows for re-entry to the festival, while the standard GA ticket does not.
All VIP packages include expedited entry through a VIP-dedicated entrance, re-entry to the festival, an exclusive VIP merch item, and access to VIP viewing areas at both stages, as well as the Artist Lounge which includes a private VIP bar, amenities and a VIP balcony overlooking the entire festival and the beach. Those desiring an elevated experience can choose VIP+, which adds a soundboard viewing area and VIP+ bar at the Miami Beach Bandshell, or the Platinum VIP Table experience, which also includes a private cabana and server for up to 10 guests on the North Beach Bandshell's Club Level. More information on ticketing options and travel packages is available at northbeachmusicfestival.com.
Keep up with all things NBMF via Facebook, Instagram and Twitter to stay in the loop with upcoming announcements and details, including the festival's official late-night programming for each night of the festival.
More About North Beach Music Festival
In its inaugural year, "NBMF combined the convenience of a city show, the immersive experience of a 'farm' festival, and the breezy inclinations of a beach vacation into one thoroughly enticing live music getaway," wrote Live For Live Music, and brought a long-overdue curation of festival favorites to south Florida, as noted by JamBase.
More About GMP Live
GMP Live is a concert promoter, festival producer, and talent curator based in Miami, FL. Founded in 2019, GMP Live creates vibrant and memorable live music experiences featuring top-notch talent in Miami Beach, New York City, New Orleans, and beyond. Along with the North Beach Music Festival, GMP Live produces the festival Brooklyn Comes Alive, Daze Between New Orleans and the "Fest By Night" series during New Orleans' famed Jazz & Heritage Festival, as well as an ongoing concert series at Miami Beach Bandshell all year long.
More About Miami Beach Bandshell
The Miami Beach Bandshell, formerly the North Beach Bandshell, is an open-air amphitheater in the heart of Miami Beach's North Beach neighborhood. The famed outdoor music venue recently received its historic landmark designation.
It has been managed by the Rhythm Foundation – a Miami Beach-based nonprofit cultural organization – for the City of Miami Beach since 2015. Built in 1961 by Norman Giller and Associates, the Miami Beach Bandshell is an anchor of the North Shore Historic District. The historic district received its 2009 designation on the National Register of Historic Places based on the characteristic style of MiMo (Miami Modernism or MidCentury Modernism), a post-war modern style of architecture.
Since its construction, the Bandshell has served as a community center and gathering place for North Beach residents. Big bands would play on Saturday nights, creating an impromptu ballroom under the stars. In the 1960s, famed variety TV show The Mike Douglas Show was filmed on location at Miami Beach Bandshell during the winter months. In the 1970s, benches were removed and the venue was used as a roller skating rink. For sixty years the North Beach Bandshell has brought people together in the spirit of community, culture and entertainment.
Amara Cay Resort & Marina Announces Holiday Events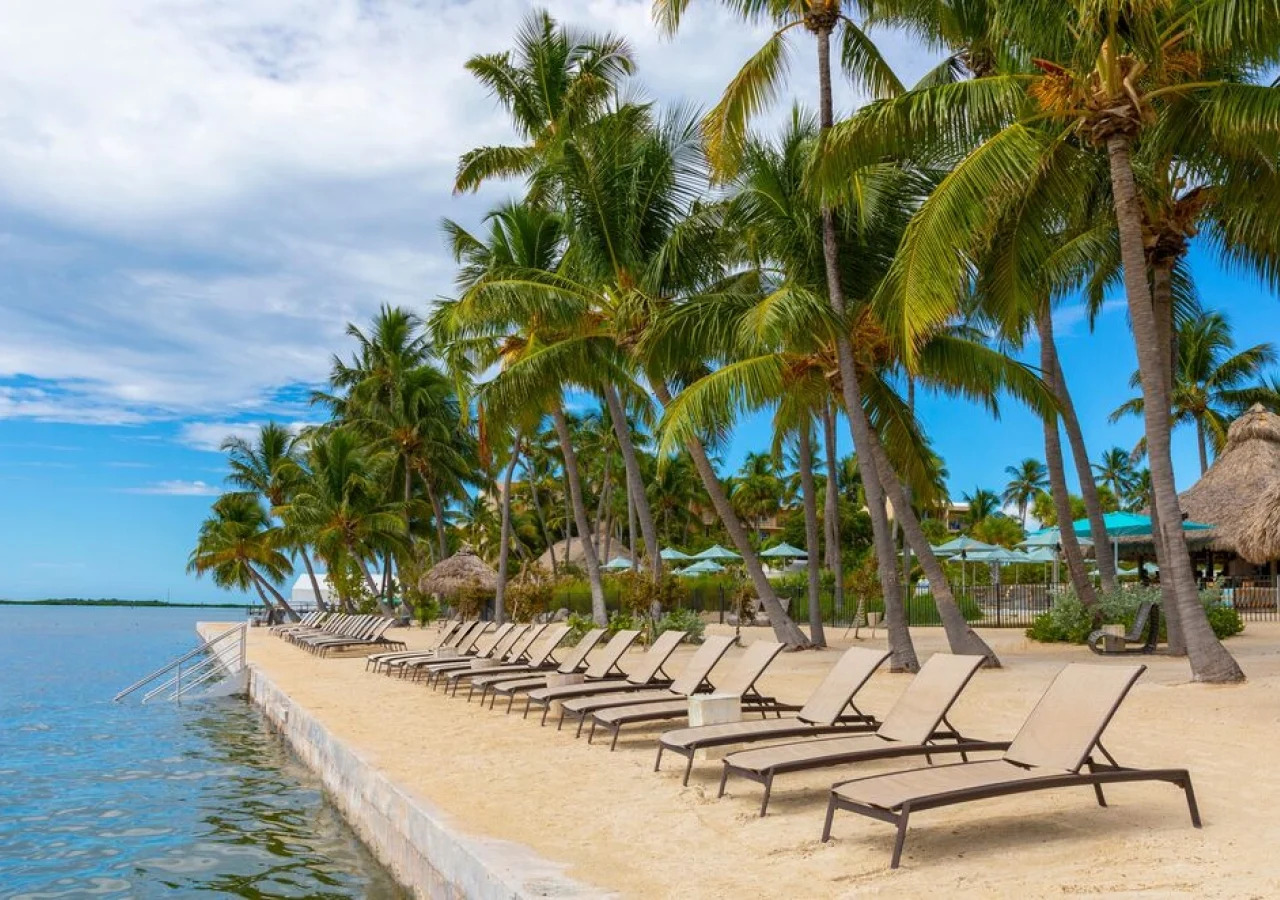 Experience a Tropical Holiday Wonderland at Amara Cay Resort: Christmas Delights at ReelCatch and a Spectacular New Year's Eve Soiree.

(more…)