Inkcarceration Makes Announcements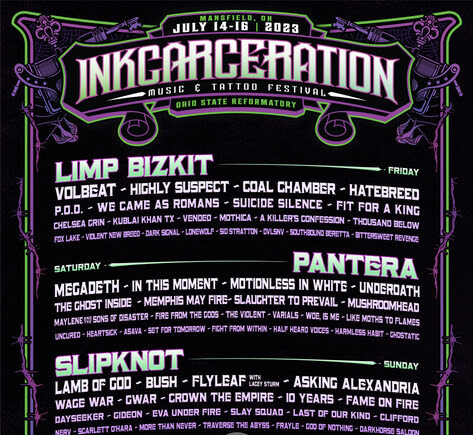 Inkcarceration Music & Tattoo Festival Performance Times & On-Site Experiences Announced; New Festival App Available for Download
June 27, 2023
As Inkcarceration Music & Tattoo Festival approaches, festival passes are now 98% sold out for the July 14-16 event. Inkcarceration will feature an all-star rock and metal lineup led by headliners Slipknot, Pantera and Limp Bizkit, plus more than 65 tattoo artists and haunted attractions at the historic grounds of the Ohio State Reformatory (made famous by the movie The Shawshank Redemption), located in Mansfield, Ohio.
The three-day weekend will also include performances from Megadeth, Volbeat, Lamb of God, Bush, In This Moment, Highly Suspect, Flyleaf with Lacey Sturm, Motionless In White, Coal Chamber and many more. The event continues the ongoing partnership of America's largest independent festival producer Danny Wimmer Presents and the creators of Inkcarceration, who together produce an event like no other. Passes for both 2021 and 2022 sold out within weeks of the festival announcements, leading to record-breaking crowds of over 75,000 people each year.
The music performance times, on-site experiences in The Inkcarceration Yard, campground programming, and festival food offerings in The Commissary have been announced for Inkcarceration 2023. In addition, an extremely limited number of hotel and festival pass bundles have just been released, so fans who are looking to travel are encouraged to book ASAP.
Limited Inkcarceration festival passes are still available for purchase and fans can "rock out now and pay later" via the Shop Pay installment plan. Visit https://dwpink.com for details. Camping passes are sold out, but a wait list is available.
The Inkcarceration music set times are as follows (subject to change) and can also be found at  https://inkcarceration.com/schedules. Set times can also be found on the festival mobile app, which can be downloaded on either Apple or Google Play Stores by visiting https://inkcarceration.com/mobileapp. Festival gates open at 11:00 AM daily.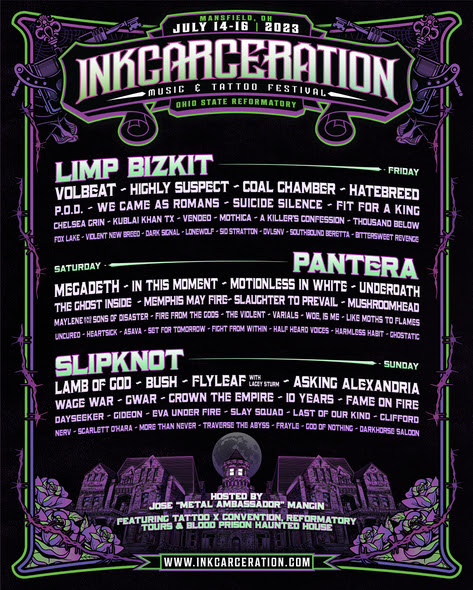 Friday, July 14
Inkmates Stage
Inked Stage
9:55 PM
Limp Bizkit
7:20 PM
P.O.D.
8:10 PM
Volbeat
5:35 PM
Suicide Silence
6:25 PM
Highly Suspect
4:10 PM
Fit For A King
4:45 PM
Coal Chamber
2:50 PM
Chelsea Grin
3:25 PM
Hatebreed
1:40 PM
Kublai Khan TX
2:15 PM
We Came As Romans
12:30 PM
A Killer's Confession
1:05 PM
Mothica
11:20 AM
Thousand Below
11:55 AM
Vended
Reformatory Stage
 
4:30 PM
Fox Lake
3:45 PM
Violent New Breed
3:00 PM
Dark Signal
2:15 PM
Lonewolf
1:30 PM
Sid Stratton
12:45 PM
DVLSNV
12:00 PM
Southbound Beretta
11:15 AM
Bittersweet Revenge
Saturday, July 15
Inkmates Stage
Inked Stage
9:25 PM
Pantera
6:40 PM
The Ghost Inside
7:25 PM
Megadeth
5:20 PM
Slaughter To Prevail
5:50 PM
In This Moment
4:05 PM
Mushroomhead
4:40 PM
Motionless In White
2:45 PM
Maylene and the Sons of Disaster
3:20 PM
Underoath
1:25 PM
Varials
2:00 PM
Memphis May Fire
12:20 PM
Like Moths To Flames
12:50 PM
Fire From The Gods
11:15 AM
Woe, Is Me
11:45 AM
The Violent
Reformatory Stage
 
4:30 PM
Uncured
3:45 PM
Heartsick
3:00 PM
Asava
2:15 PM
Set For Tomorrow
1:30 PM
Fight From Within
12:45 PM
Half Heard Voices
12:00 PM
Harmless Habit
11:15 AM
Ghostatic
Sunday, July 16
Inkmates Stage
Inked Stage
9:25 PM
Slipknot
6:50 PM
Asking Alexandria
7:40 PM
Lamb of God
5:30 PM
10 Years
6:00 PM
Bush
4:15 PM
GWAR
4:50 PM
Flyleaf with Lacey Sturm
2:55 PM
Dayseeker
3:30 PM
Wage War
1:35 PM
Gideon
2:10 PM
Crown The Empire
12:25 PM
Slay Squad
1:00 PM
Fame On Fire
11:15 AM
Clifford
11:50 AM
Eva Under Fire
Reformatory Stage
 
4:30 PM
Last Of Our Kind
3:45 PM
Nerv
3:00 PM
Scarlett O'Hara
2:15 PM
More Than Never
1:30 PM
Traverse The Abyss
12:45 PM
Frayle
12:00 PM
God Of Nothing
11:15 AM
Darkhorse Saloon
In addition to enjoying the diverse music lineup, fans will be able to partake in the Inkcarceration on-site tattoo convention and book appointments with more than 65 artists. Nightly tattoo competitions will be hosted by musician and Big Brother alum Jenncity and judges will include tattoo artists Caleb Neff, Brian Adamson and Mat Helton.
Campers at Inkcarceration will have exclusive access to campground-only entertainment and amenities, including live music, a movie, drinks and late-night eats from Thursday, July 13 through Saturday, July 15 in the brand-new indoor-outdoor Parole In The Campgrounds lounge and stage. Daily entertainment in the campgrounds includes:
Thursday: Camping Pre-Party from 8:00 PM – 1:00 AM with performances from Rock Capitol (live band karaoke), Silly Goose, and Southbound Beretta
Friday (11:30 PM – 1:45 AM): performances from The Phoenix Within, The Other LA, Alyxx
Saturday (11:30 PM – 1:45 AM): performances from To Us Below, Critic City, The Mendenhall Experiment
Sunday (11:30 PM – 1:45 AM): performances from Titans In Time, Nameless Anonymous
Festival attendees are encouraged to explore The Inkcarceration Yard and check out the fun experiences available to all "Inkmates."
The Inkcarceration Yard includes:
Escape From Blood Prison: The only haunted hellscape in a real prison, and a yearly Halloween event held at the former prison. Blood Prison at Inkcarceration will be open from Noon – 5:00 PM daily. Visitors to Blood Prison can tour The Warden's Widow's living quarters and the basement of this very haunted prison. Tickets to both attractions will be available for $20 at the center entrance of the building (cash only).
Ohio State Reformatory Tours: During Inkcarceration, The Ohio State Reformatory will be open for free self-guided tours for festival attendees from 11:00 AM – 6:00 PM daily. Visitors can stroll the halls and visit the cells of some of history's toughest criminals, tour the intact set of The Shawshank Redemption, explore the prison's paranormal history, and bask in the beautiful Romanesque architecture. Visit www.mrps.org for more information.
Take Me Home: A not-for-profit volunteer animal foundation that has been saving the lives of homeless animals since 2001. The donations raised at Inkcarceration help to fund mobile veterinary hospitals that travel to under-served areas to provide free spay and neuter, vaccinations, microchipping and administer medical care for animals in desperate need. Take Me Home also supports local animal charities. Visit the booth to learn more, buy a shirt or signed merchandise and enter a raffle.
Warden Jose Mangin: Inkcarceration official host SiriusXM's Jose "Metal Ambassador" Mangin will conduct exclusive backstage interviews, interact with Inkmates and more.
On-site beverage experiences and lounges include: BeatBox Beverages (non-carbonated, gluten-free, and resealable), Bud Light Seltzer (crisp, cool refreshments) and the Bud Light Seltzer cube facing the main stage where fans can stay cool and sample some of the innovative new products, Bulleit Bourbon (hang out with the Bulleit ambassador team and sip on signature cocktails inspired by a family tradition that dates back to the 1800s), Middle West Spirits (handcrafted cocktails curated using OYO Vodkas, Straight Rye Whiskey or Vim & Petal Gin), Monaco Cocktails (visit Monaco at the top of the hill for a quick refresh in between sets, with many flavors to choose from), The Blackened Whiskey Bar (featuring the super premium blend of straight bourbons and ryes created by the late, legendary Master Distiller Dave Pickerell and the almighty Metallica).
Visit https://inkcarceration.com/theyard for complete details on festival experiences.
Inkcarceration will offer an incredible variety of food and beverage options at The Commissary. Inkmates will enjoy a taste of Ohio's best, as well as tried and true festival favorites, all curated by Southern Hospitality Concessions LLC, DWP's affiliate concessionaire. Participating food vendors include: Athens Greek Truck, Avo-Rrito Street Cuisine, BBQ Highlife, Buckeye Chocolate Company, Bulgogi Catering, Burger Boyz, Chicken Mac Truck, Dirty Franks Hot Dog Palace, Dos Bros Birria Tacos And Ramen, Event Specialists, Fistfull Of Tacos, Gringo's Cantina Truck, Grunts Grub Truck, Hai Poke, Island Noodles, Mad Meltz Truck, MD Creative Blends, Pie Baby Pizza, Ponti Rossi Pizza, Pooja's Market, Rice Rice Baby, Rock A Burger Truck, Spicy Pie Pizza, and Twisted Tots.
Ohio State Reformatory's historic building and grounds provide a perfect setting for Inkcarceration. The massive, awe-inspiring locale is recognized as not only one of the most haunted reformatories in the country, but also as the filming location for multiple Hollywood films. The most famous of these is the 1994 classic and IMDB highest rated movie of all time, The Shawshank Redemption.
The Ohio State Reformatory is centrally located, about an hour from Cleveland, Columbus and Canton/Akron, and within a three-hour drive from Toledo, Dayton, Cincinnati, Youngstown, and parts of West Virginia, Michigan, Kentucky, Indiana and Pennsylvania.
Inkcarceration is proud to host partners Acathla Clothing, Anheuser-Busch, BeatBox Beverages, Blackcraft Cult, Bulleit Bourbon, Collective Coven, Dimebag Hardware, Fxck Cancer, Hellflower Soap Company, Middle West Spirits, Monaco Cocktails, Mortus Viventi, Nowhere Fast, Ohio Lottery, Parlor Root Beer, Plank Eyewear, Queen Bee, Red Bull, Save22, Take Me Home, The Pretty Cult, The Taylor Foundation, To Write Love On Her Arms, U.S. Army, and U.S. Marines.
Inkcarceration is co-produced by Danny Wimmer Presents, one of the largest independent producers of destination music festivals in America, and Reinkcarceration LLC, a partnership that formed with the original founders of INK in 2021.
For more information on Inkcarceration please visit:
Website: www.Inkcarceration.com
Facebook: https://www.facebook.com/Inkcarcerationfestival
Twitter: https://twitter.com/InkcarFestival
Instagram: https://www.instagram.com/inkcarcerationfestival/
Amara Cay Resort & Marina Announces Holiday Events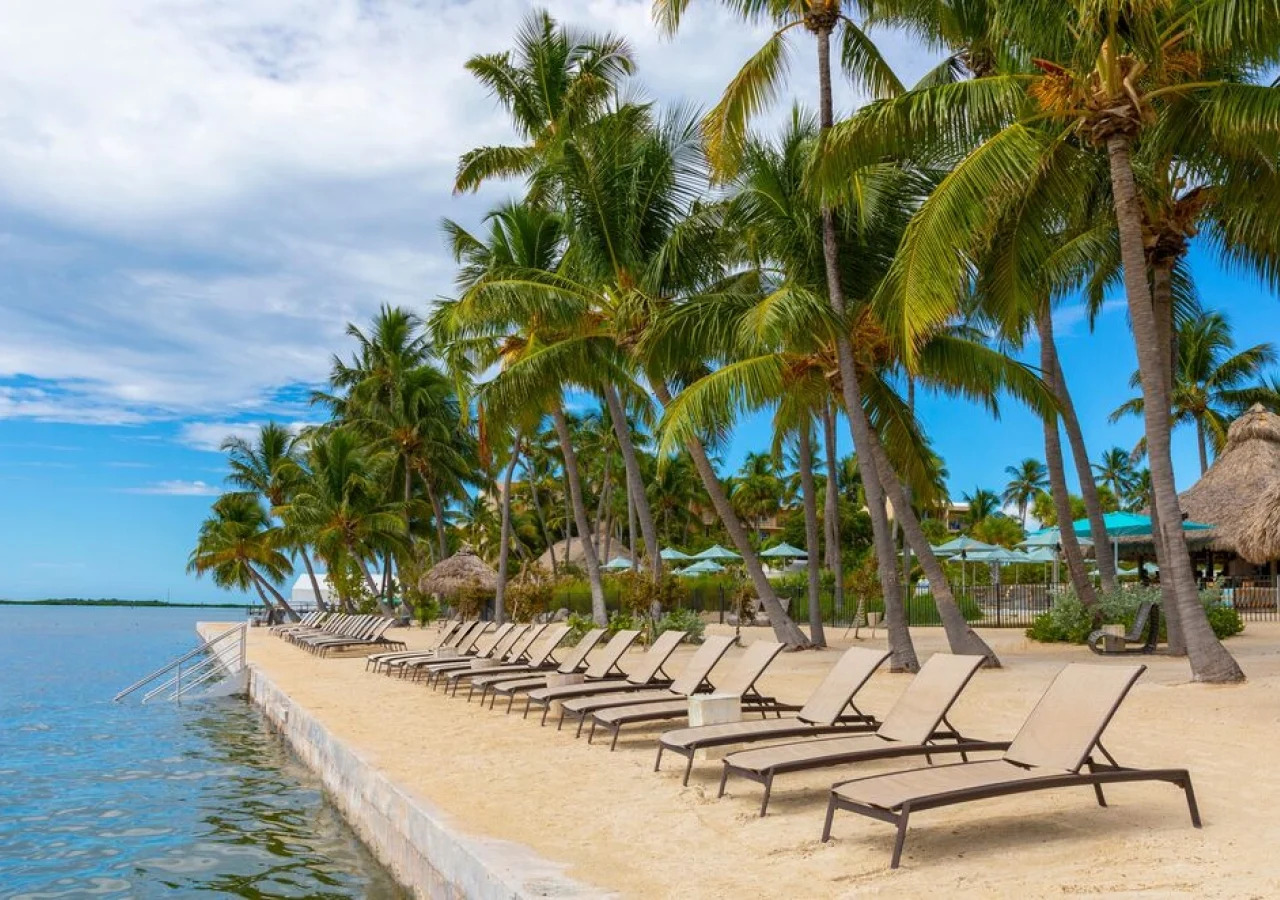 Experience a Tropical Holiday Wonderland at Amara Cay Resort: Christmas Delights at ReelCatch and a Spectacular New Year's Eve Soiree.

(more…)