Hulaween's 10th Anniversary Edition Announces Headliner Additions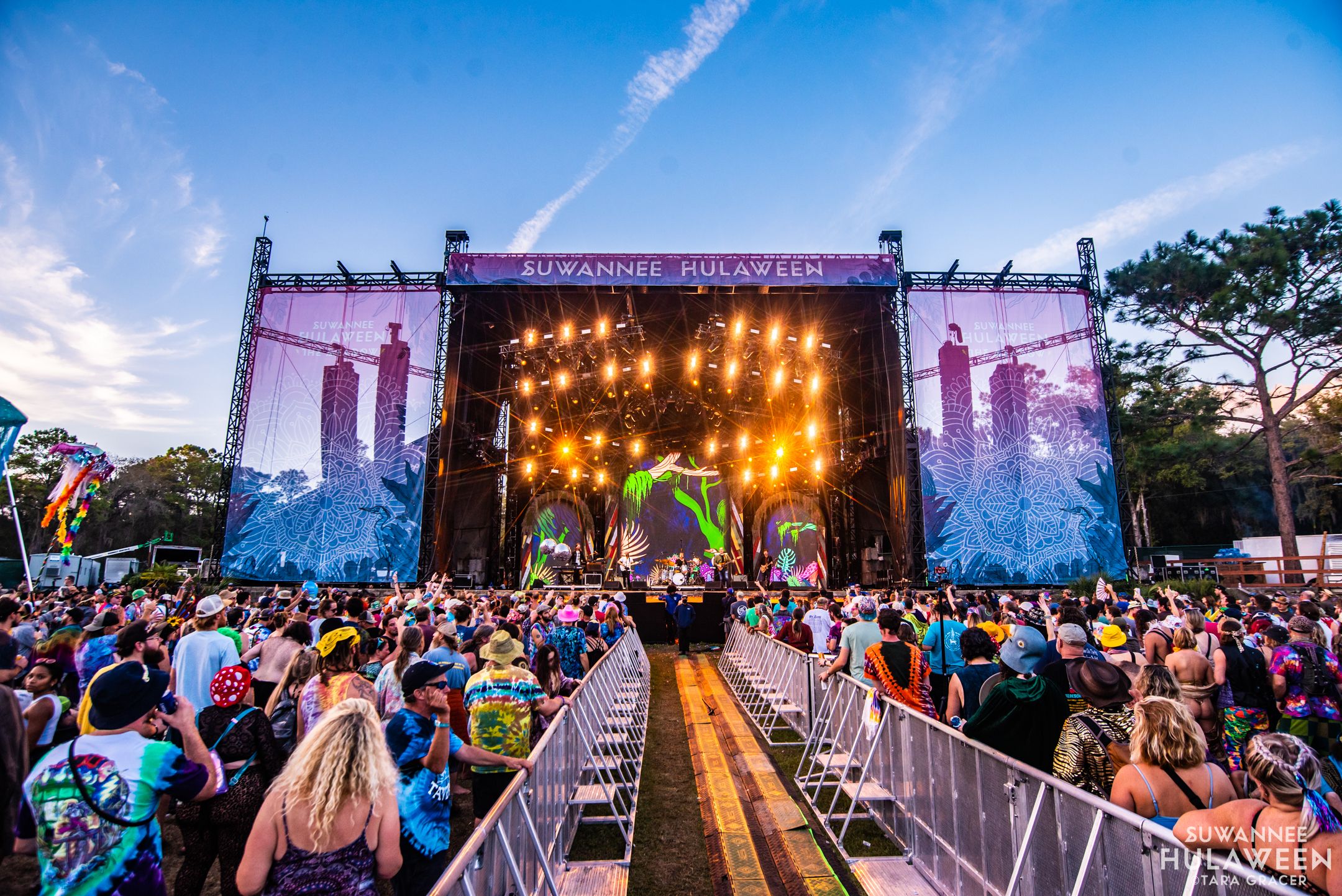 Pretty Lights, Goose and John Summit to headline Hulaween's 10th anniversary edition.
April 4th, 2023
Suwannee Hulaween to celebrate festival's tenth anniversary with historic, genre-bending lineup
Following a five-year hiatus, electro-soul pioneer Pretty Lights will headline Hulaween as his only East Coast festival performance on his Soundship Spacesystem Tour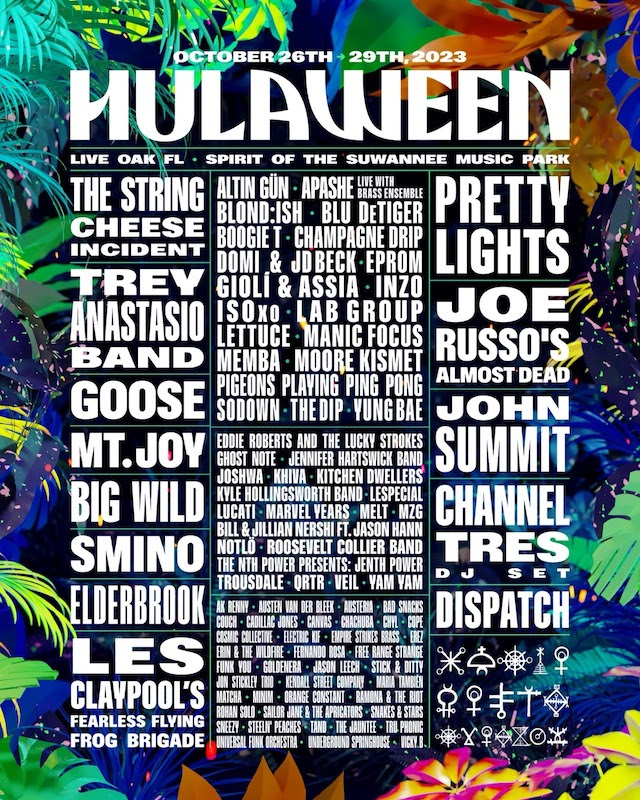 Headliners include festival originators The String Cheese Incident, Trey Anastasio Band, Goose, John Summit, Elderbrook, Big Wild, Channel Tres, Les Claypool's Fearless Flying Frog Brigade, Joe Russo's Almost Dead, Smino, Dispatch, and one special band headliner to be announced
Thursday, October 26 – Sunday, October 29, 2023 at Spirit of the Suwannee Music Park in Live Oak, Florida
Tickets on sale now via 
"The festival and concert industry landscape continues to be bought up and homogenized by the majors, so staying the course as true independents and surviving through all of the highs and lows we've endured to this milestone 10 year anniversary, is incredible. We think back fondly of all the people who have been part of the Hula journey with us, and how the team continues to learn and grow to elevate the experience and lineup every year. We've proudly stayed true to this community and culture we are servicing and hope to keep doing that for at least another 10!" – Michael Berg, Co-Founder, Brand Manager, & Talent Buyer for Hulaween
Suwannee Hulaween has unveiled its historic, genre-crossing lineup to celebrate the festival's tenth anniversary celebration edition, returning home to the Spirit of the Suwannee Music Park in Live Oak, Florida from Thursday, October 26 – Sunday, October 29, 2023.
Hulaween is one of the last truly-independent, large-scale music festivals thriving amongst today's corporatized concert landscape, and after selling out its last five editions, the festival is commemorating a decade of success with its most impressive lineup yet.
Following a five-year hiatus, electro-soul pioneer Pretty Lights will headline Hulaween as his only East Coast festival performance on his Soundship Spacesystem Tour. It's been nearly two decades since Pretty Lights started originating his signature, sample-heavy sounds that redefined America's electronic music scene, and his exclusive East Coast festival set at Hulaween promises to showcase vibrant, bass-fueled sounds to the festival's feverish audience.

Watch – Hulaween 2023: The 10th Anniversary
Known globally for his playful demeanor and rip-roaring sets, tech-house maestro John Summit marks another Hulaween headliner. The Beatport chart-shredder will host Hulaween's first-ever takeover by Off The Grid, Summit's party-starting imprint, which will offer up sets by label favorites famed for igniting dance floors.
Other electronic music heavyweights headlining Hulaween include Grammy-nominated multi-instrumentalist/producer Elderbrook, producer polymath Big Wild, and revered house producer/vocalist Channel Tres.
On the jam side of the lineup, Hulaween founders The String Cheese Incident will serve up three nights of headlining performances. Phish-offshoot Trey Anastasio Band and critically-acclaimed indie-jam five piece Goose will play consecutive sets on the same night, following their joint tour across the North East last fall. Other headlining bands include Hulaween staple Joe Russo's Almost Dead (2 sets), the Hulaween debut of Les Claypool's Fearless Flying Frog Brigade, and legendary roots-rock outfit Dispatch.
Hulaween will also welcome neo-soul rapper Smino as the festival's sole hip-hop headliner, as well as a headlining set by five-piece indie rock band Mt. Joy. One additional band headliner remains yet to be announced, coming later in April.
The festival will present a bevy of in-demand, electronic music support acts, including Montreal producer BLOND:ISH, underground bass purveyor Eprom, multi-faceted Italian DJ/producer duo Gioli & Assia, ascendent bass producer ISOxo, genre-bending producer Manic Focus, ascendent trailblazer Moore Kismet, bass-focused producer supergroup Lab Group, and future-funk maestro Yung Bae.
Staying true to its band-focused roots, Hulaween will boast a medley of celebrated acts including funk-fusion ensemble Lettuce, funk-jam group Pigeons Playing Ping Pong, and critically-acclaimed, Anatolian rock/Turkish psychedelic folk outfit Altin Gün.
The Hulaween 2023 lineup is brimming with more than 90 acts that cover all corners of the dance floor. Over the course of the past decade, Hulaween has hosted a plethora of genre-crossing artists the Spirit of the Suwannee's idyllic grounds, which serves as perfect setting for attendees to fully immerse themselves in Florida's lush, enchanting nature.
Hulaween's Spirit Lake is heralded as one of the leading immersive art experiences across American festivals, brimming with talented sculptors, fire/metal workers, painters, thespians, and lighting designers. Attendees can revel in lakefront projection mapping, hypnotizing light shows, interactive installations, and both visual and performance art, catch performances at Spirit Lake's two stages, and groove into sunrise at the Silent Disco.
SUWANNEE HULAWEEN 2023 LINEUP
HEADLINERS
The String Cheese Incident
Pretty Lights
Trey Anastasio Band
Goose
John Summit
Mt. Joy
Joe Russo's Almost Dead
Big Wild
Smino
Elderbrook
Channel Tres (DJ set)
Les Claypool's Fearless Flying Frog Brigade
Dispatch
SUPPORT (A-Z) 
Altin Gun
Apashe (Live w/ith Brass Ensemble)
Blond:ish
Blu DeTiger
Boogie T
Champagne Drip
DOMI & JD Beck
Eprom
Giolì & Assia
Inzo
ISOxo
Lab Group
Lettuce
Manic Focus
Memba
Moore Kismet
Pigeons Playing Ping Pong
SoDown
The Dip
Yung Bae
ADDITIONAL SUPPORT (A-Z) 
Couch
Eddie Roberts and the Lucky Strokes
Ghost Note
Jennifer Hartswick Band
Joshwa
Khiva
Kitchen Dwellers
Kyle Hollingsworth Band
lespecial
Lucati
Marvel Years
Melt
MZG
Bill & Jillian Nershi ft. Jason Hann
NotLö
Roosevelt Collier Band
The Nth Power presents JeNth Power
Trousdale
QRTR
Veil
FINAL SUPPORT (A – Z) 
AK Renny
Austen Van Der Bleek
Austeria
Bad Snacks
Cadillac Jones
Canvas
Chachuba
CHYL
Cope
Cosmic Collective
Electric Kif
Empire Strikes Brass
Erez
Erin & The Wildfire
Fernando Rosa
Free Range Strange
Funk You
GoldenEra
Jason Leech
Stick & Ditty
Jon Stickley Trio
Kendall Street Company
Maria También
Matcha
MiniM
Orange Constant
Ramona & the RIOT
Rohan Solo
Sailor Jane & The Apricators
Snakes & Stars
Sneezy
Steeln' Peaches
Tand
The Jauntee
Tru Phonic
Universal Funk Orchestra
Underground Springhouse
Vicky B
Yam Yam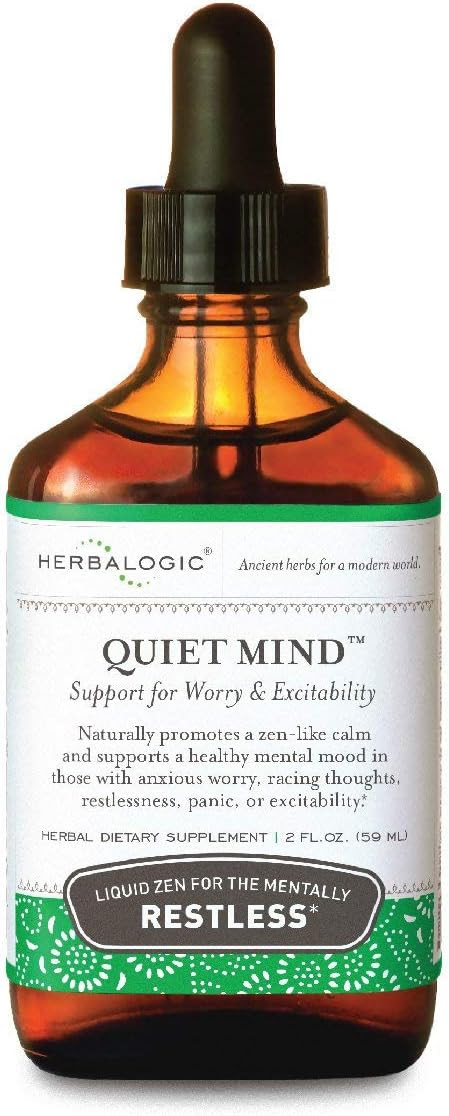 Quiet Mind Herb Drops – A Multi-Herb Blend Traditionally Used to Help Healthy Bodies Cope with Restless Nerves, Racing Thoughts, or Panicky Moods.